Island Cup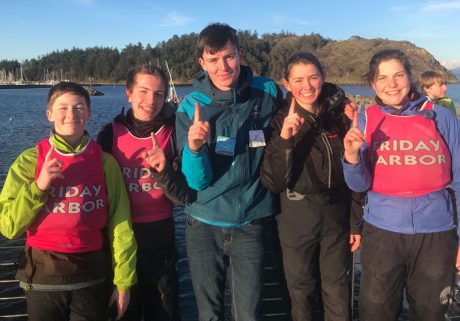 The Friday Harbor high school sailing team is hosting Island Cup the weekend of April 14 and 15. Racing starts Saturday at 12:30 and continues til around 5:30 pm, and then again on Sunday from 10 AM until 3 PM.
The best 18 high school teams from around the northwest will be here competing, including a team from both Friday Harbor and Orcas Island. Each race will be around 15 minutes, and run throughout the day in two fleets.
The general public is welcome to come out to Roche Harbor to watch the racing. Race Official Scott Boye has promised, wind permitting, to set up a course that brings the sailors in close proximity to the spectators' pier, which will be the outer-most pier.
Per Black, the Friday Harbor team captain, after practicing at Roche on April 7, is looking forward the "dynamic near-shore conditions" and feels that the Friday Harbor team is capable of a top three finish. They certainly will be gunning to win on their home island, but also look for Orcas to also make the podium, as they have been sailing very well all season.
This event would not be possible without the support of Roche Harbor, San Juan Island Brewing Company, Friday Harbor High School, and the San Juan Island Sailing Foundation.
Posted on April 11, 2018 at 5:49 am by Tim Dustrude
Categories: Sports


Comments are closed.