Master Gardeners Spring Plant Sale
Posted April 16, 2018 at 5:48 am by Tim Dustrude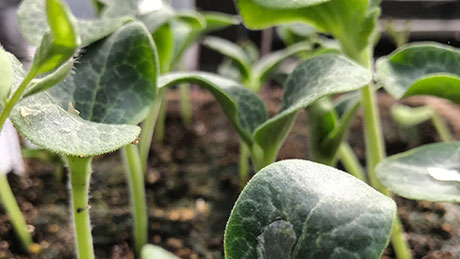 Don't Miss the Annu­al Mas­ter Gar­den­ers Spring Plant Sale!
Hun­dreds of organ­ic veg­etable starts and peren­ni­als, all lov­ing­ly grown and nur­tured by San Juan Coun­ty Mas­ter Gar­den­ers, will be on sale at the Mullis Cen­ter, Sat­ur­day May 12th at 9am – just in time for Mother's Day! Please arrive ear­ly as favorites sell out quickly.
The Mas­ter Gar­den­ers choose veg­eta­bles they love. They love them because they grow well in our cli­mate, often pro­duc­ing heav­i­ly and ear­ly; some are unique heir­looms, or serve a vari­ety of uses, but all have excep­tion­al fla­vor. As in pre­vi­ous years, there's a large vari­ety of won­der­ful toma­toes and pep­pers, includ­ing a new pep­per with a fas­ci­nat­ing his­to­ry, the Fish Pepper.
The Fish Pep­per is a pre-1870's African-Amer­i­can heir­loom, brought to the Chesa­peake Bay region from the Caribbean, used in fish and shell­fish cook­ing. It's famous for its striped fruit and var­ie­gat­ed foliage in addi­tion to its fla­vor and heat. At first the fruits are white, mov­ing through yel­low, green, brown and final­ly red. The pep­pers can be used in any col­or form. When white, they were the secret ingre­di­ent African-Amer­i­can chefs used in fish stews and crab dish­es, adding fla­vor and heat but not col­or. Grown in the Smith­son­ian Gar­dens, it's an Arc of Taste heir­loom, does well in con­tain­ers, and has per­formed well in our Demon­stra­tion Gar­den. Oth­er pep­pers range from sweet to hot, for fry­ing, dry­ing, sal­sas and sal­ads. There are Jalapeno and Ser­ra­no for heat, Padrone and Jim­my Nardel­lo for fry­ing, and Ana­heim, Cal­i­for­nia Won­der and Corno di Toro's for eat­ing fresh, stuff­ing, grilling and roasting.
There are cher­ry toma­toes of all col­ors, includ­ing the favorites, Sun Gold and Sweet Mil­lion. There are toma­toes for can­ning, sauces and dry­ing, and for eat­ing right out of hand. Look for pick­ing and slic­ing cucum­bers, sum­mer and win­ter squash­es and pump­kins, cau­li­flower, kales, cab­bages and broc­coli, tomatil­los and three kinds of basil. Because these plants suc­ceed in Mas­ter Gardener's gar­dens, they're very like­ly to suc­ceed in yours. Mas­ter Gar­den­ers will be at the sale to pro­vide care and grow­ing advice.
There are over 600 peren­ni­al plants this year, includ­ing natives, with plants suit­ed to many types of gar­den envi­ron­ments: ground­cov­ers, flow­ers, orna­men­tal grass­es, small shrubs, and won­der­ful­ly unique accent plants to pop into a spe­cial spot. If you're an Iris lover, you're in luck – there are dozens, rep­re­sent­ing five dif­fer­ent species. Oth­er depend­able favorite flow­ers include Daylilies, Gera­ni­ums, Alstroe­me­ria, Bunch­ber­ry, "Wood's Blue" Aster, Yarrow, Mus­cari, and Laven­der. The full list of peren­ni­als is much longer.
All pro­ceeds from the sale are used to sup­port Mas­ter Gar­den­er pro­grams such as the Demon­stra­tion Gar­den at the Mullis Cen­ter and this sale. Last year the Demon­stra­tion Gar­den pro­vid­ed over 1,500 pounds of pro­duce for the Food Bank. Funds also sup­port plant Diag­nos­tic Clin­ics on Lopez, Orcas and San Juan Islands.
Annu­al Mas­ter Gar­den­ers Spring Plant Sale
9am – 12pm
Sat­ur­day, May 12th
Mullis Senior Center
589 Nash St.
Fri­day Har­bor, WA 98250
You can support the San Juan Update by doing business with our loyal advertisers, and by making a one-time contribution or a recurring donation.