Family Arts Days
Posted May 25, 2018 at 7:13 am by Tim Dustrude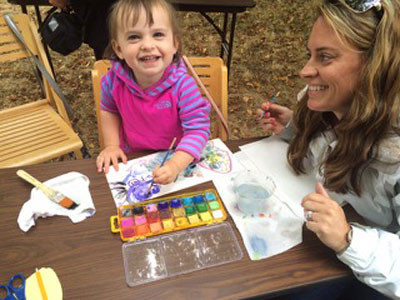 Sum­mer Fam­i­ly Arts Days At The San Juan Islands Muse­um Of Art
Plan your sum­mer with the fam­i­ly and mark your cal­en­dars now.
Chil­dren and fam­i­lies cre­ate fun-tas­tic works with local artists at the San Juan Islands Muse­um of Art. Fam­i­ly Arts Days are a sum­mer­time island tra­di­tion, where local artists teach island crafts in a fresh out­door setting.
Mate­ri­als will be pro­vid­ed for cap­ti­vat­ing, hands-on projects, result­ing in col­or­ful cre­ations to take home. Many of the projects relate to the sum­mer exhi­bi­tion, Con­ver­sa­tions With Gee's Bend at SJIMA.
All ages and fam­i­lies are invit­ed to the orchard next to SJIMA at 540 Spring Street. Enter through the park­ing lot next to the muse­um. Hours are 12–4 and no reser­va­tions are required-drop­ping in is just fine.
The pro­gram is free, but dona­tions to pay for mate­ri­als are appreciated.
The pro­gram is taught by Lana Hick­man and Alice Hib­bert, trained instructors.
Art & Dates:
June 16 — Col­lages inspired by Con­ver­sa­tions With Gee's Bend with geome­tries, fab­ric and paper art.
June 23 — Human Inter­est Paint­ings ‑based on the art of Horace Pip­pin in acrylics.
June 30 — Folk Flags from Haiti, using fab­ric, paper, and sequins.
July 7 — Jamaican Car­ni­val Crowns, a 3‑D mixed media assembly.
July 14 — Sto­ry of African Carv­ings, por­traits in relief in Plas­ter of Paris.
July 21 — Sacred Signs Alpha­bet, you are chal­lenged to cre­ate a 266 let­ter alpha­bet, mixed media.
July 28 — Boun­ti­ful Har­vest. Hait­ian mar­ket paint­ing in tem­pera and acrylic,
August 4 — Out of Africa. Picasso's cubes and Calder Beasties.
August 11 — Jun­gle Ani­mals Tell Their Sto­ries in a 3‑D paper craft.
August 25 — Fusion of Cul­tures Doll Mak­ing, fab­ric, yarns and ribbon.
The Con­ver­sa­tions With Gee's Bend opens on May 25 and run through Sep­tem­ber 3. SJIMA is open Thurs­day-Mon­day, 11–5. Admis­sion to the exhi­bi­tions is $10, with mem­bers and those 18 and under free. Mon­days are Pay What You Can Days.
You can support the San Juan Update by doing business with our loyal advertisers, and by making a one-time contribution or a recurring donation.