Family Arts Days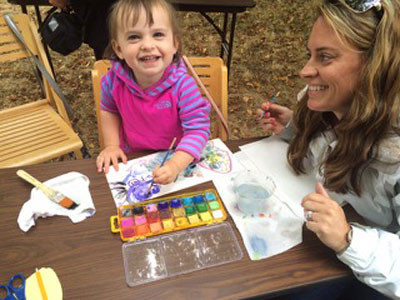 Summer Family Arts Days At The San Juan Islands Museum Of Art
Plan your summer with the family and mark your calendars now.
Children and families create fun-tastic works with local artists at the San Juan Islands Museum of Art. Family Arts Days are a summertime island tradition, where local artists teach island crafts in a fresh outdoor setting.
Materials will be provided for captivating, hands-on projects, resulting in colorful creations to take home. Many of the projects relate to the summer exhibition, Conversations With Gee's Bend at SJIMA.
All ages and families are invited to the orchard next to SJIMA at 540 Spring Street. Enter through the parking lot next to the museum. Hours are 12-4 and no reservations are required-dropping in is just fine.
The program is free, but donations to pay for materials are appreciated.
The program is taught by Lana Hickman and Alice Hibbert, trained instructors.
Art & Dates:
June 16 – Collages inspired by Conversations With Gee's Bend with geometries, fabric and paper art.
June 23 – Human Interest Paintings -based on the art of Horace Pippin in acrylics.
June 30 – Folk Flags from Haiti, using fabric, paper, and sequins.
July 7 – Jamaican Carnival Crowns, a 3-D mixed media assembly.
July 14 – Story of African Carvings, portraits in relief in Plaster of Paris.
July 21 – Sacred Signs Alphabet, you are challenged to create a 266 letter alphabet, mixed media.
July 28 – Bountiful Harvest. Haitian market painting in tempera and acrylic,
August 4 – Out of Africa. Picasso's cubes and Calder Beasties.
August 11 – Jungle Animals Tell Their Stories in a 3-D paper craft.
August 25 – Fusion of Cultures Doll Making, fabric, yarns and ribbon.
The Conversations With Gee's Bend opens on May 25 and run through September 3. SJIMA is open Thursday-Monday, 11-5. Admission to the exhibitions is $10, with members and those 18 and under free. Mondays are Pay What You Can Days.
Posted on May 25, 2018 at 7:13 am by Tim Dustrude
Categories: Arts


Comments are closed.