Mist-Chi-Mas: A Novel Of Captivity
Janet Oakley has long ties to San Juan Island and on this return trip, she will be presenting her latest novel, Mist-Chi-Mas: A Novel of Captivity, at the San Juan Island Library, Wednesday, May 16, 7:00 pm.
Griffin Bay Bookstore and the Library encourage you to come out for her book talk about the novel and her love affair with both English Camp and American Camp, and their unique histories, told with imagination and flair. If you attended her book talk about Tree Soldier several years ago, you'll surely want to come learn about Mist-Chi-Mas.
Janet describes what led her to write this novel: "I've always wanted to write about Hawaiians in the Pacific Northwest. This novel seemed to be one way to do it, but it all began after I was asked to write a Pig War curriculum for the San Juan Island National Historical Park so many years ago. That undertaking led to my decades-long love of English Camp and American Camp, their histories, and beautiful San Juan Island. Hawaiians or Kanakas, as they were called in that time, are part of that history. Mist-chi-mas is about the amazing story of the peaceful resolution of the dispute over the international water boundary between Washington Territory and British Columbia and the cultures and people of the Salish Sea."
In Mist-Chi-Mas: A Novel of Captivity, everyone is bound to something. Englishwoman Jeannie Naughton never intends to run away from life, but in 1860 a woman's reputation is everything. A scandal not of her own making forces her to flee to an island in the Pacific Northwest. The island, home to Coast Salish people and Hawaiians working for the Hudson's Bay Company, is jointly occupied by British and American military forces.
Jeannie settles into life at English Camp where she meets American Jonas Breed. As a youth he was captured and held as a slave-a mist-chi-mas-by the Haida. Jeannie forms a passionate, hidden liaison with Breed. Jeannie and Breed plan to run away and marry. News that Breed has been killed in a fight with a dangerous smuggler causes Jeannie to take refuge with Andrew Pierce, an acquaintance of Breed's. She marries Pierce, then moves to Seattle Twenty years later, recently widowed, Jeannie receives a note that Breed may be alive. Jeannie now embarks on a journey to find Breed, unaware she is stirring up an old and dangerous struggle of power and revenge.
About the Author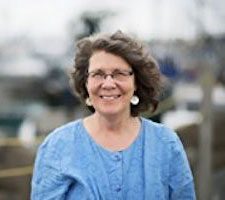 Janet Oakley writes historical fiction that spans the mid-19th century to WW II with characters standing up for something in their own time and place. Her writing has been recognized with a 2013 Bellingham Mayor's Arts Award, the 2013 Chanticleer Grand Prize, the 2015 WILLA Silver Award, the 2016 Grand Prize Goethe Award for post 1750 historical fiction. She loves writing in noisy cafes and researching history. When not writing, she demonstrates 19th century folkways.