Home Trust Tours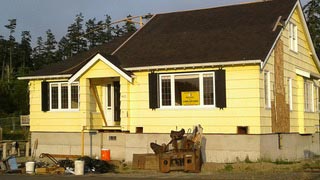 The San Juan Community Home Trust would like to take islanders on a tour!
Our two newest homes were barged over from Victoria B.C. in March and are on-site in our Sun Rise II neighborhood. This "ultimate recycling" project is supported by islanders to provide permanently affordable homes for island workers and their families. We think you should see the homes and the pocket neighborhood which ultimately 12 families will call home.
Tours are offered by Home Trust Board Members on Fridays and Sundays at both 11:00am and 3:00pm. Please RSVP to the Home Trust Office (360) 378-5541.