Judd Cove Boat Fire
Posted June 6, 2018 at 5:49 am by Tim Dustrude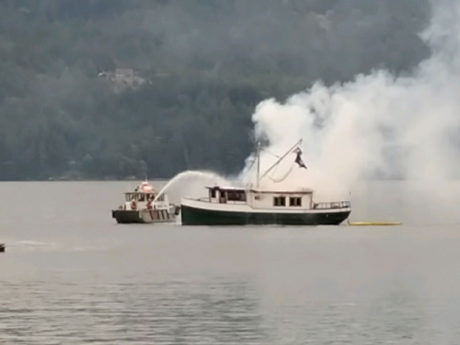 From the SJC Dept. of Emer­gency Management…
At approx­i­mate­ly 7am on June 5th, San Juan Coun­ty Dis­patch received a report of a ves­sel on fire in Judd Cove near East­sound on Orcas Island. Per­son­nel from the San Juan Coun­ty Sheriff's Office, San Juan Island Fire, Orcas Island Fire & Res­cue and the Unit­ed States Coast Guard responded.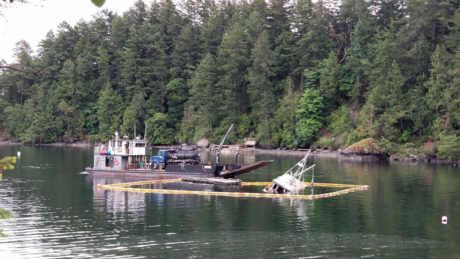 On scene, the MV Sanc­tu­ary, a 38 foot wood­en trawler was smok­ing heav­i­ly and clear­ly on fire. There were no peo­ple on board when the fire start­ed. The fire was unable to be extin­guished, and the ves­sel sank in the waters of Judd Cove. The cause of the fire is not known at this time.
Some leak­age of fuels on board has occurred and an appar­ent sheen of fuel has been vis­i­ble from air sur­veys through­out the day. Response per­son­nel from the Islands' Oil Spill Asso­ci­a­tion (IOSA) have deployed boom in an effort to con­trol the release. There are no observ­able impacts to wildlife to date.
Response staff from the Wash­ing­ton State Depart­ment of Ecol­o­gy flew to the island to con­duct an ini­tial scene sur­vey, and coor­di­nat­ed with local first respon­ders, land man­agers, and San Juan Coun­ty Emer­gency Man­age­ment staff.
As of 8pm on the day of the spill, Depart­ment of Ecol­o­gy and Coast Guard staff are on scene along with con­trac­tors from Glob­al Div­ing and Sal­vage, hired to remove all remain­ing fuel from the ves­sel and ensure no fur­ther pol­lu­tion. Depart­ment of Ecol­o­gy Staff will be con­duct­ing a full shore­line assess­ment after the overnight work is com­plete, look­ing for impact­ed areas and assess­ing any need for fur­ther clean up.
Once the pol­lu­tion source is con­trolled, work will begin to devel­op a plan for remov­ing the burned hull of the ves­sel and return­ing the waters of Judd Cove to their nat­ur­al state.
Pho­tos are cour­tesy of Wash­ing­ton State Depart­ment of Ecology
You can support the San Juan Update by doing business with our loyal advertisers, and by making a one-time contribution or a recurring donation.