The Tempest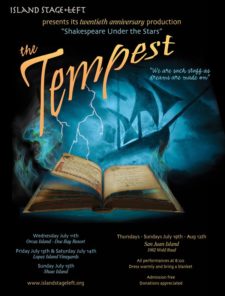 Island Stage Left presents its twentieth anniversary production of "The Tempest" – Shakespeare's magnificent and touching farewell to the stage.
We hope you will join us for this enchanting story of a wondrous island where the stars align to let a lost man finally come to terms with his humanity and where bitterness and corruption are transformed by the magic of forgiveness.
Suitable for all ages.
Come celebrate with us!
(Click the image at right for dates and venue information)