Buzz by Thor Hanson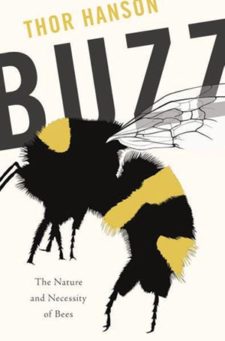 San Juan Islander Thor Hanson has written another lively, informative, and entertaining new book—BUZZ—which is to be released on Tuesday, July 10 with great fanfare at an official launch party hosted by Griffin Bay Bookstore at Brickworks on July 10, 7:00 pm.
If you've been anxiously awaiting another wonderful book from our favorite biologist, this is your chance to get a copy that's right off the press, your chance to hear him talk about his latest foray into nature before he takes off on a book tour.
Buzz: The Nature and Necessity of Bees takes you on a tour of the natural and cultural history of bees. They're like oxygen: ubiquitous, essential, and, for the most part, unseen. While we might overlook them, they lie at the heart of relationships that bind the human and natural worlds.
In Buzz, author and biologist Thor Hanson takes us on a journey that begins 125 million years ago, when a wasp first dared to feed pollen to its young. From honeybees and bumbles to lesser-known diggers, miners, leafcutters, and masons, bees have long been central to our harvests, our mythologies, and our very existence. They've given us sweetness and light, the beauty of flowers, and as much as a third of the foodstuffs we eat. And, alarmingly, they are at risk of disappearing.
As informative and enchanting as the waggle dance of a honeybee, Buzz shows us why all bees are wonders to celebrate and protect. Once you read this book, you'll never overlook them again.
"Never highbrow or authoritative, Thor Hanson writes with the infectious enthusiasm of one encountering wonders for the first time; less a teacher than a fellow traveler on a shared voyage of discovery. Surely among the finest nature writers of our time―whatever subject Hanson turns his hand to, the result is spellbinding." —Katrina Van Grouw, author of The Unfeathered Bird and Unnatural Selection
About the Author

Thor Hanson is a Guggenheim Fellow, a Switzer Environmental Fellow, and an award-winning author and biologist. His books include Buzz, The Triumph of Seeds, Feathers, and The Impenetrable Forest, and the illustrated children's favorite, Bartholomew Quill.
Hanson's writing has been translated into more than ten languages and has earned many accolades, including The John Burroughs Medal, the Phi Beta Kappa Award, the AAAS/Subaru SB&F Prize, and two Pacific Northwest Book Awards. His many media appearances have included NPR's Fresh Air, PRI's Science Friday, The Current on CBC, and Book Lust​ with Nancy Pearl.