Friday Harbor Recognized with an AWC Municipal Excellence Award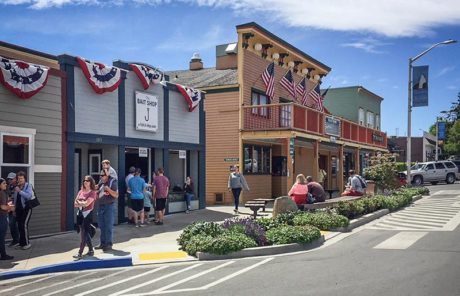 Five Washington cities awarded for excellence at AWC's Annual Conference
OLYMPIA – Representatives from 138 cities and towns across Washington convened in Yakima in June for the Association of Washington Cities (AWC) Annual Conference. During the conference, AWC honored five Washington cities with a Municipal Excellence Award.
"Hard work and creative thinking were evident in the projects of this year's Municipal Excellence Award winners," said Don Britain, AWC President and Mayor of Kennewick. "These cities brought innovative solutions to address familiar city issues in their communities."
Chosen from 25 applications, the 2018 AWC Municipal Excellence Award winners are:
Small city success: Friday Harbor, Breezeway Pocket Park
Growing concerns about pedestrian safety at a congested downtown intersection, coupled with increasing tourism in Friday Harbor, prompted the Breezeway Pocket Park idea. An average narrow sidewalk was transformed into an open, inviting space. The sidewalk area was expanded into the street, reducing crosswalk lengths and improving sight lines. The pocket park includes custom wood and stone seating, public art, landscaping, decorative concrete pavers, and an unobstructed view of the surrounding streetscape.
Community engagement: Sequim, neighborhood revitalization project
The City of Sequim partnered with local nonprofits, residents, and businesses to form a neighborhood revitalization coalition. The coalition conducts surveys, holds events, and addresses revitalization needs. Because of the coalition, community conversations increasingly focus on projects to improve the community and residents explore how neighbors can feel more connected. The city successfully created a program that actively engages the community, improves service delivery, enhances community networks, and informs policymaking.
Economic development: Kenmore, connecting and growing local businesses
The City of Kenmore created a business alliance and incubator to demonstrate that the city is a place of opportunity that cultivates existing businesses, and invites new ones. The economic development strategy seeks to promote Kenmore, support old and attract new business, provide a walkable downtown, and connect the community to the waterfront. The city actively works to direct funds and resources to better connect the business community with the city.
Homelessness, affordable housing, and mental health services: Walla Walla, homeless challenge
After a particularly harsh winter negatively affected Walla Walla's homeless population, the city created a plan to help residents experiencing homelessness find better emergency shelter. Working with a local housing alliance, the city helped build 31 insulated, weatherproof, lockable shelters (Conestoga huts) to replace instable and weather-exposed tents. The city contracted with the housing alliance to provide sanitation and security services and help residents find permanent housing.
Public safety: Lakewood, police department phlebotomist program
The Lakewood Police Department and the Washington Traffic Safety Commission developed a program that allows officers to draw blood during impaired driving investigations. Lakewood PD certified six officers as phlebotomists to draw blood under specific circumstances. Because the program is the first of its kind in Washington, it was critical to educate the community about the reasons behind the blood draws and the immediate impacts on public safety.
"Our Municipal Excellence Award winners are all truly deserving of recognition," said Peter B. King, AWC Chief Executive Officer. "These five communities have undertaken innovative projects that have improved quality of life in their communities."
Watch the award videos here.
AWC serves its members through advocacy, education, and services. Founded in 1933, AWC is a private, nonprofit, nonpartisan corporation that represents Washington's cities and towns before the state legislature, the state executive branch, and with regulatory agencies. Membership is voluntary, yet AWC consistently maintains 100 percent participation from Washington's 281 cities and towns.
AWC also provides training, data and publications, and programs such as the AWC Employee Benefit Trust, AWC Risk Management Service Agency, AWC Workers' Comp Retro Program, AWC Drug and Alcohol Consortium, and the AWC GIS Consortium.