Island Senior: Bargains Galore in the Mullis Center's New Coupon Book
Island Senior is a regular column on the San Juan Update written by Peggy Sue McRae…
Island a' la Carte, the Mullis Center's new coupon book just came out. I already used my first coupon at San Juan Bakery this morning. With 20% off of my entire purchase that was a good deal. The coupon books are a fundraiser for the Mullis Center's daily operations and at $30 the books pay for themselves after just a few purchases.
At my first thumb through I noticed that thanks to Friday Harbor Dentistry's generous $30 coupon, one trip to my dentist and my book will be completely paid for. With 32 food and eating establishments listed if you eat out at all in Friday harbor, from Herb's Tavern to Duck Soup, from Vic's to Vinny's Risorante, with your coupon book you will save a bundle.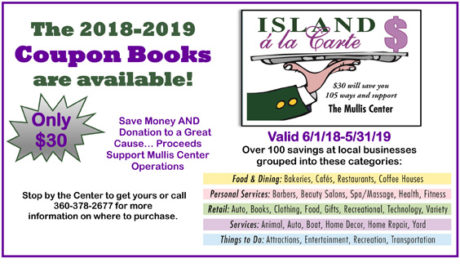 There is more. With over 100 local establishments, 15 newly represented this year, you could save money on a massage or haircut or get free truffles with your purchase from Friday Harbor Chocolates. Auto supplies, art supplies and toys, a kayak trip or a bottle of wine, there are a lot of great goods and services packed into this booklet of bargains.
The book is a true community effort and the Mullis Center thanks the many members of the community who donated so generously to give this collection of savings real value. A special thanks goes out to Printonyx for contributing the layout and design of the entire book and to Nancy Geist for her generous volunteer work contacting contributors.
Island a' la Carte Coupon books will be for sale (cash or check only please) at the Farmers Market on Saturday, July 7. They will also be sold at Market Place on Friday, July 14 from 11 AM – 3 PM and Saturday, July 27 from 1-5 PM. Additionally, folks can stop by the Mullis Center from 9 AM – 4 PM, Mon-Fri to purchase the books.