Chamber Chat
This is the Summer Chamber Chat, written by Gail Schnee, (San Juan Island Chamber Board President & Co-Owner of Cotton Cotton Cotton) and Becki Day (Executive Director of SJI Chamber of Commerce)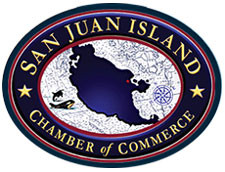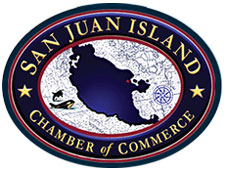 We are right in the middle of summer and it has been a fabulous one so far! Lots of events and concerts and the weather has been beautiful!
The 4th of July Parade this year was so much fun – The theme was Music of America and all the entrants really embraced the theme and a great time was had by all. The parade was followed by the Kiwanis Pig War BBQ, Music at the Port and finishing with another spectacular fireworks display. (It was the best ever.) A big thank you to all the volunteers and sponsors that made this year's festivities a huge success that will be talked about for the rest of the year!
Did you know you can still donate to the 4th of July fireworks? You can make tax-deductible charitable contributions for the Fireworks Fund via the San Juan Island Community Foundation by mailing a check to SJICF, PO Box 1352, Friday Harbor, WA 98250 and place a note in the memo line: 4th of July Fireworks Fund.
The Lavender Festival last month was their most successful one yet and they couldn't have asked for better weather. The participants enjoyed a beautiful setting with the lavender in bloom and lots of artisans and demonstrations.
We are taking a break from socials for the summer and will resume next month at the SJ Yacht Club on Monday, September 10th at 5:30 PM.
The Chamber Luncheon was July 9th at Brickworks. It was a nice intimate gathering and we heard updates from the port and the fair board. It is hard to believe the fair starts next week!
This month's events include the Summer Art Festival at Brickworks every Friday in August, the San Juan County Fair August 15-18, the Friday Harbor Airport Fly-In August 25th and the Concours d' Elegance August 26th. You can check out other events and happenings at http://sanjuanisland.org/events-calendar.htm
New Members since May:
Friday Harbor Boat Rentals-Noah Easterbrook
Archipelago Collective – Dana Jackson
Backroads – Hazel Kirtis
Melic Masonry LLC – Dina & Faim Melic
Pamela Williams – Coldwell Banker

Our featured member of the month is Mr. Believables and their story will be posted later this week.
The Chamber Board of Directors, Executive Director and Staff send our condolences to the families of David King, and also Lou Coleman, Aero Classic Aviation, who passed away last week in a plane crash. We will miss Lou's smiling face at the Chamber.
Please let us know how your business is doing this season, as we have heard some are doing great and other businesses are down. We wish all a prosperous season so far for local businesses and that the beautiful weather keeps visitors coming to the Island well into the fall and winter!