PeaceHealth Offers Back-to-School Backpack Safety Tips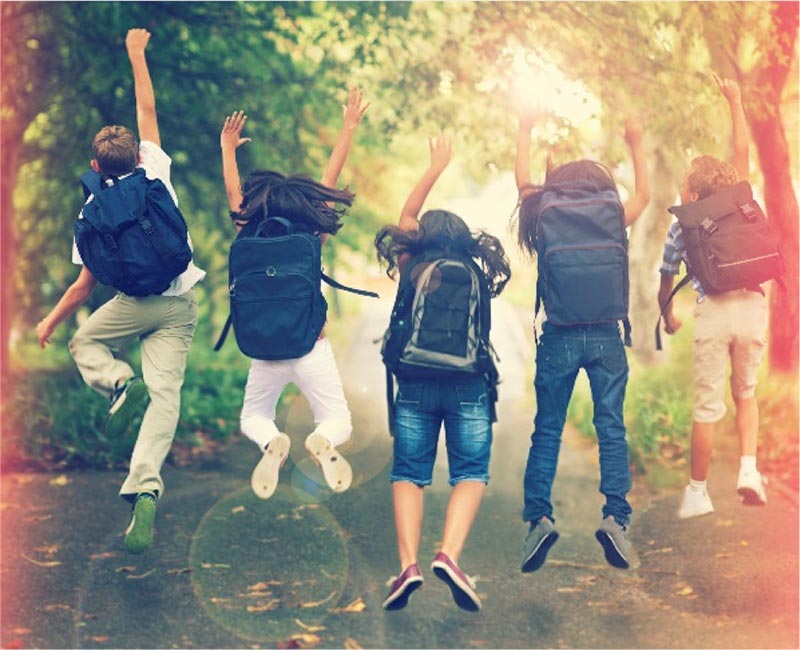 It's the time of year when kids gear up for the start of school, filling their backpacks with new textbooks and school supplies. But they may be carrying more than just educational materials with them. Backpacks can be the source of neck, shoulder and back strain.
According to the Consumer Product Safety Commission (CPSC), in 2016 emergency departments, doctors' offices and clinics treated 35,937 people for backpack-related injuries.
"Children and teenagers are at-risk for musculoskeletal injuries by wearing backpacks that are too heavy, worn incorrectly or don't fit properly," said Sylvie de Rham Tortorelli, PT, clinical specialist with PeaceHealth's Grabow Therapy & Wellness Center. "Parents can help ensure that their kids avoid unnecessary strain and pain."
Monitoring backpack weight and use:
De Rham Tortorelli encourages parents to remain vigilant about overloaded backpacks. "Check frequently that your child is not carrying more than 15 percent of his or her body weight in the backpack," she advised. To calculate the maximum weight recommendation, multiply your child's weight by .15. The backpack should not weigh more than this number.
De Rham Tortorelli also offered the following advice:
If the backpack seems too heavy for the child, have them remove some of the books and carry them in their arms to ease load on the back.
Encourage your child to store as many items as they can in their locker, rather than their backpack.
Educate your child on how to properly wear a backpack by keeping straps on both shoulders, adjusting the straps to fit snugly and using the waist strap.
Help your child understand how to distribute the weight properly by putting the heaviest items low and near the center of the back.
The backpack should be positioned evenly in the middle of the back, near the wearer's center of gravity. It should not extend below the lower back.
When picking up a backpack, lift properly by bending at the knees and hips.
Tips for choosing a backpack
"Having the right backpack is also key," de Rham Tortorelli said. Parents should keep the following in mind when shopping for a new backpack:
Shoulder straps should be wide and padded to help distribute the weight evenly.
Choose sturdy material to help prevent sharp objects from poking through.
Use a waist strap to hold the pack close to the body.
Multiple compartments help with organization and even weight distribution.
"A crossbody bag can also be a good alternative for carrying books and supplies," de Rham Tortorelli added.
Attentiveness and prevention
Parents should not ignore any back pain in a child or teenager and should evaluate backpack use immediately if numbness, tingling or discomfort in the arms or legs are reported.
It's also important to encourage children to be active. "This can promote better muscle strength and flexibility, which makes it easier to carry a backpack," de Rham Tortorelli explained.
###
About PeaceHealth: Based in Vancouver, Wash., PeaceHealth is a not-for-profit Catholic health system offering care to communities in Washington, Oregon and Alaska. In 1890, the Sisters of St. Joseph of Peace founded what has become PeaceHealth. PeaceHealth Peace Island Medical Center, a 10-bed Critical Access Hospital in Friday Harbor, serves communities in the San Juan Islands. Key services include general and orthopedic surgery, oncology, behavioral health and primary care. Visit us online at peacehealth.org.