First Annual Back to School Ice Cream Social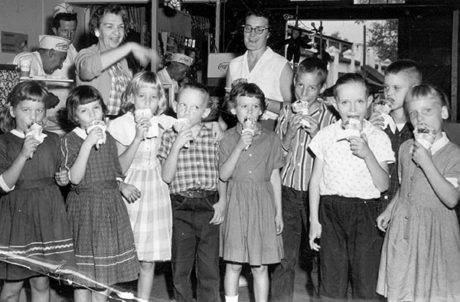 On Sunday, September 16, from 2:00 to 5:00 pm, the San Juan Historical Museum will host the First Annual Back to School Ice Cream Social on their grounds at 405 Price Street.
There will be Bowls of vanilla ice cream, chocolate sauce and toppings (Yum!) with a suggested donation of $5.00. All proceeds will aid in the ongoing development of the new Museum of History and Industry
All museum buildings will be open so have a look around. Wear you best vintage hat and enter to win fabulous prizes. Join us for a laid back, old-fashioned community ice cream social and help us celebrate the closing days of a busy season.
Keep it simple, get your bowl of ice cream and sit around with your friends and neighbors you didn't see all summer! We have picnic tables and some chairs, or you could bring a blanket. Admire each other's hats, tell stories and listen to the music and advertising of a century ago. Check out the museum buildings before or after the ice cream, and see what your community museum has been doing to preserve and display San Juan Island History.
Note: The Seahawks are playing on Monday Night Football that week so no worries about missing the game.
Posted on September 13, 2018 at 5:48 am by Tim Dustrude
Categories: History


Comments are closed.