New Paintings at Waterworks Gallery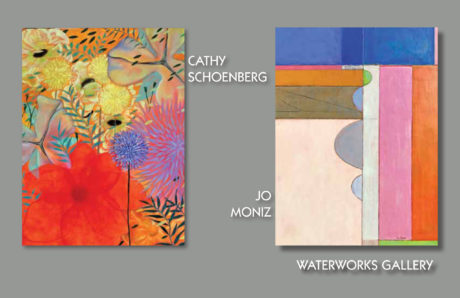 There will be a reception Friday September, 7th 4-7 pm for artists Cathy Schoenberg, with floral oil paintings and Jo Moniz, with geometric encaustic paintings. Both artists share a richly hued color palate.
Cathy's journey to her present work in oils takes very circuitous route. Patterning of dancing figures, female forms, and felines lead to brilliantly colored floral shapes belonging to many seemingly familiar flowers.
Jo's architecturally-oriented encaustic paintings are meditations in quiet, seemingly simplified landscapes of doorways, archways and buildings. Color relationships and proportions are used as a reaction to creative urges to add color, texture, and emotion to geometric forms.
Please join Cathy and Jo on Saturday, September 8th from 11 am -1 pm at WaterWorks Gallery for an informal artist talk and walk thru the show.
Posted on September 6, 2018 at 6:15 am by Peggy Sue McRae
Categories: Arts


Comments are closed.