September is Preparedness Month in San Juan County!
Posted September 8, 2018 at 6:30 am by Peggy Sue McRae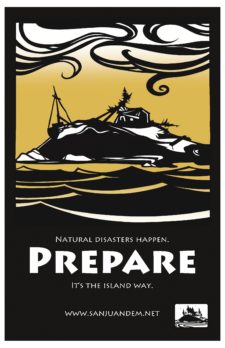 From Bren­dan Cow­an, Direc­tor, San Juan Coun­ty Depart­ment of Emer­gency Man­age­ment…
While emer­gency pre­pared­ness is a year round respon­si­bil­i­ty for all islanders, the San Juan Coun­ty Coun­cil recent­ly pro­claimed Sep­tem­ber as "Pre­pared­ness Month" in San Juan County.
"This is an oppor­tu­ni­ty to remind every­one who spends time in the islands that many of the things we love most about being here also require us to be espe­cial­ly well pre­pared for our inevitable emer­gen­cies and nat­ur­al dis­as­ters," said Coun­ty Coun­cil Mem­ber Rick Hughes.
The pri­ma­ry focus for emer­gency pre­pared­ness in the islands should be a two week sup­ply of food and water (includ­ing for our pets), fol­lowed close­ly by a 30 day sup­ply of essen­tial med­ica­tions, a way to cook and stay warm in an extend­ed pow­er out­age, and talk­ing through basic needs and response with fam­i­lies and neighbors.
The San Juan County/Town of Fri­day Har­bor Depart­ment of Emer­gency Man­age­ment has pre­pared­ness mate­ri­als online at www.sanjuandem.net/prepare and are very will­ing to send staff to talk to neigh­bor­hoods, busi­ness­es, church­es, or any group of islanders look­ing for some direc­tion and help with preparing.
Emer­gency Man­age­ment Direc­tor Bren­dan Cow­an high­lights that, "Being pre­pared isn't com­pli­cat­ed, and does­n't need to be expen­sive or time con­sum­ing. We've tried to make it as sim­ple as pos­si­ble. The most impor­tant thing is to just get start­ed. Doing noth­ing means that you're count­ing on some­one else to take care of you."
A dis­as­ter in the islands like­ly means loss of pow­er and com­mu­ni­ca­tions, dis­rup­tion to the food and fuel sup­ply, much more dif­fi­cult access to med­ical care, and per­haps a loss of water sys­tems. The islands are in an active earth­quake haz­ard zone, and have a his­to­ry of severe win­ter storms in years past. While the like­li­hood of a seri­ous event in any one year is low, over time the risk is high.
Lopez Island Fire and EMS Chief J Havn­er empha­sized the impor­tance of action, "In a dis­as­ter, local emer­gency respon­ders will be over­whelmed, and main­land help may be a long time com­ing. It is essen­tial that every islander ensure that they and their fam­i­lies can take care of them­selves for at least two weeks, ide­al­ly longer."
Sher­iff Ron Krebs echoed the Chief's con­cerns, "My team and I will be work­ing tire­less­ly after the quake to help the islands recov­er, but we need every­one to do their part now. Get pre­pared. Take this seri­ous­ly. We all care about our com­mu­ni­ty, and the best way to make sure you'll be part of the good work that hap­pens in response is to make sure you're pre­pared now."
So, while emer­gency pre­pared­ness is a full time assign­ment, use Sep­tem­ber as an annu­al check in. Take a look at your sup­plies, fill in any miss­ing pieces, and reach out to the local Depart­ment of Emer­gency Man­age­ment if you have ques­tions or needs. Email: dem@sanjuandem.net or 360–370-7612.
Link to: San Juan Coun­ty Depart­ment of Emer­gency Management
You can support the San Juan Update by doing business with our loyal advertisers, and by making a one-time contribution or a recurring donation.