At the Film Festival Next Weekend: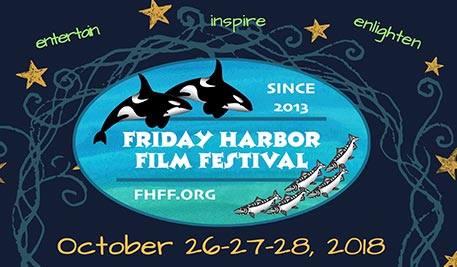 The Friday Harbor Film Festival gets rolling on Friday, October 26th at 10:00 AM. See the complete schedule at www.fhff.org. Here are a few things you won't want to miss:
Opening Night Gala Honoring Filmmakers
Friday evening at 7:00 PM in the Whittier Theatre at San Juan Community Theatre
All Access Pass & GALA Only tickets are still available
An exclusive party that celebrates filmmakers and their films. Enjoy the company of our filmmakers, sponsors, invited guests, All-Access Pass and Gala Night ticket holders. Feast on delicious locally sourced appetizers from a selection of San Juan Island's best chefs, beer and wine. Be there for the presentation of the Andrew V. McLaglen Lifetime Achievement Award and screening of the feature film Chasing the Thunder.
Plus – Don't miss these Free Events at the Friday Harbor Film Festival:
Filmmaker's Forum
Sunday, October 28 ~ 10:00 AM – 12:30 PM at Friday Harbor House
Discuss the art of film making with the artists who created, directed and produced this year's films. Visiting filmmakers will participate in a lively discussion of their film making processes and experiences.
Closing Night Awards Ceremony
Sunday, October 28 ~ 7:00 PM in the Whittier Theatre at San Juan Community Theatre
~The Audience Makes the Award Choices ~
~ Use Your Ballot & Share your enthusiasm at the Audience Choice Awards ~
Screening of the Festival's most popular film, as voted by audience ballots
Awards in Categories of:
Explorers & Adventures; Things to Consider; Tales from the Heart
Best Short Film
The Local Hero Award – Honoring a San Juan Islands local who has made outstanding contributions to our quality of life
The Inaugural Laszlo Pal Emerging Filmmaker Award – Honoring the memory of filmmaker/film educator and former FHFF Board Member and recognizing emerging young talent in filmmaking