FHFF Starts Friday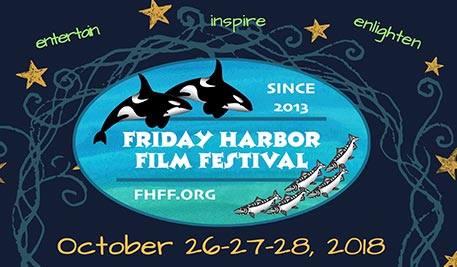 This year the Friday Harbor Film Festival kicks off at 10 a.m. Friday, Oct. 26, and runs through Sunday, Oct. 28. At 7 p.m. Oct. 26 there will be the Filmmakers Gala. Paul Watson, of Sea Shepherd, will accept his Lifetime Achievement Award. Gala attendees will also have a chance to view his film "Chasing the Thunder."
Tickets for the Gala are $75, refreshments included. Festival prices are: $15 for one film, $65 for five, $120 for 10, or $175 for an all-access wristband, which includes priority seating. Tickets are available at www.fhff.org . Students are free and may pick up their wristbands at the Friday Harbor Film Festival office at 10 First St., Friday Harbor. Hours are Tuesday-Sundays, noon-4 p.m.
Also this year, whether due to new marketing or partnering with Seattle's The Stranger to sell tickets, sales have skyrocketed. "I strongly recommend people buy tickets now because there is a chance we could be sold out," said Lynn Danaher festival founder and director.
Many of the films feature members of the island community. "Adrift" for example, is based on the book "Red Sky in Mourning," a true story by islander Tami Oldham Ashcraft. After being caught at sea in a massive hurricane, an injured Ashcraft gathers her strength and uses what little is left of her boat to make over a month-long journey toward land.