Northwest artist creating sculpture of Friday Harbor founder Edward Warbass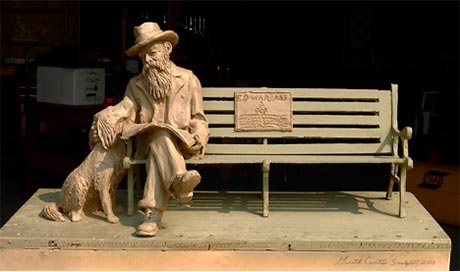 Northwest artist Gareth Curtiss has been selected by the Town of Friday Harbor to complete a life-size bronze sculpture of town founding father Captain Edward D. Warbass. The piece will include Mr. Warbass sitting on a park bench with his dog, Bob, by his side.
The artwork is scheduled for installation on the sidewalk at the First Street entrance to Sunshine Alley by summer 2019. A model or "maquette" of the piece is available for public viewing at the Town Hall administrative office.
The artist presented his maquette at the August 16, 2018, Town Council meeting where he explained his process and offered to complete a portion of the sculpting at a public venue on a return visit to Friday Harbor. Most of the sculpting will take place at his Shelton, WA, studio, with casting completed at his personal foundry in Montana.
In his 30 years as a professional sculptor, Curtis has completed close to 50 pieces that are displayed throughout the country. Samples of his work may be viewed on his website at http://www.garethcurtiss.com/.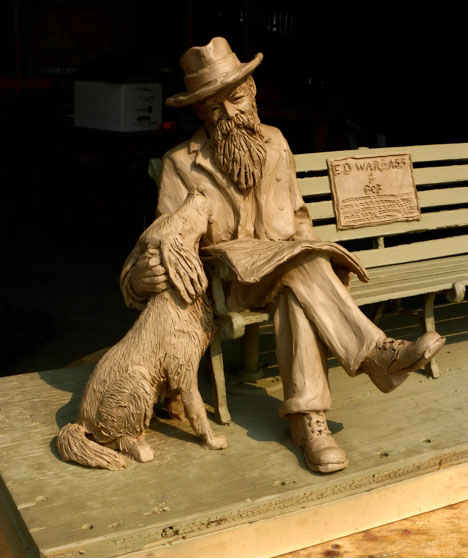 Curtiss was selected from several professional bronze artists who responded to the Town's 2017 request for sculpture proposals. An Art Selection Panel composed of representatives of the Friday Harbor Arts Commission (FHAC), local arts community, and neighboring properties reviewed proposals from artists based in Washington, Idaho, British Columbia, Chicago, and Spain. The panel's recommendation was discussed publicly at FHAC and Town Council meetings last fall.
Both the FHAC and Town Council concurred with the panel's unanimous selection of Mr. Curtis. "We were impressed with the creative design he presented as well as the appealing and realistic style of his previous works," said FHAC member Diane Martindale.
Ed Warbass is one of three men credited with founding the town. He was instrumental in breaking San Juan County away from Whatcom County and making Friday Harbor its county seat. The art site was selected to highlight an entrance to Sunshine Alley as part of the Town's Sunshine Alley Design Plan. The bench will face Mr. Warbass's namesake street, Warbass Way.
This is the third major art project involving the FHAC since its formation in 2015. Previous projects include the Sunken Park mural, "Witness the Beauty," and the stone benches created by Tom Small for Breezeway Park.