Oktoberfest and More Accolades at SJI Brewing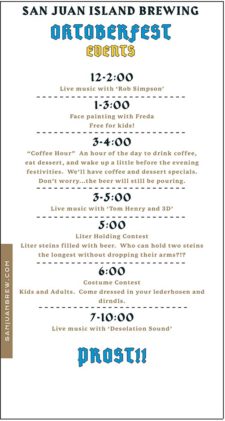 San Juan Island Brewing will be holding their Oktoberfest celebration this weekend on Saturday. Check out the poster at right (click on it to make it larger) to see what all fun events they have planned.
Also, they've just won another award for their Bull Kelp ESB. This time it's a national award:
San Juan Island Brewing Company received a bronze medal at the 2018 Great American Beer Festival (GABF) competition. Presented by the Brewers Association, GABF is the largest commercial beer competition in the world and recognizes the most outstanding beers produced in the United States. The top three winners in the competition's 102 beer-style categories were announced September 22 at the Great American Beer Festival awards ceremony held at the Colorado Convention Center in Denver, Colorado.
San Juan Island Brewing Company was recognized in the Extra Special Bitter beer-style category for its Bull Kelp ESB. Bull Kelp ESB balances toffee notes with warm biscuit malt character and finishes with a touch of hop bitterness.. San Juan Island Brewing is a 1,000-barrel brewpub located in Friday Harbor, WA that specializes in traditional English style ales and German style lagers. This is the second award in the past few months for the Bull Kelp ESB, [which was] awarded a gold medal in June by the Washington Beer Awards.
"The ESB, a fantastic beer, exemplifies our dedication to beers that are balanced, highly drinkable and made with the highest quality ingredients in the world. We are incredibly humbled by this award." said Jesse Visciglia, Head Brewer at San Juan Island Brewing.
The 2018 GABF competition winners were selected by an international panel of 293 expert judges from 8,496 entries, received from 2,404 U.S. breweries, plus 101 Pro-Am and 49 Collaboration entries.
"The 32nd edition of the GABF competition yielded a remarkable turnout of the country's most exemplary beers," said Chris Swersey, competition manager, Great American Beer Festival. "I'm continuously impressed by contenders' talent and passion and would like to extend congratulations to this year's winners for their excellence in brewing."
For more GABF competition information, including the 2018 winners list and photos, visit GreatAmericanBeerFestival.com.