Soil need some help? Landscape a little bare?
Posted October 11, 2018 at 5:48 am by Tim Dustrude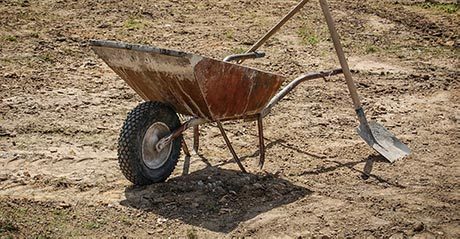 The San Juan Coun­ty Mas­ter Gar­den­ers are pleased to wel­come Craig Cog­ger, WSU Soil Sci­en­tist Emer­i­tus, and Everett Chu, Own­er of Azusa Farm and Gar­dens LLC, Cer­ti­fied Pro­fes­sion­al Hor­ti­cul­tur­ist and Land­scape Design­er, to the Annu­al Gar­den­ing Workshop.
Dr. Cog­ger will dis­cuss "Assess­ing and Amend­ing Your Gar­den Soil," with guide­lines for test­ing, fer­til­iza­tion and organ­ic amend­ments. Learn how to do a back­yard soil struc­ture test to under­stand what type of soil you have, and how to choose fer­til­iz­ers and organ­ic amend­ments for a healthy soil ecosystem.
Mr. Chu will dis­cuss the "Drought Resis­tant Land­scape," the advan­tages of a sus­tain­able, aes­thet­i­cal­ly pleas­ing, drought-tol­er­ant land­scape. He will explain how to design, plant and main­tain a gar­den that sup­ports bio­di­ver­si­ty, is eco­log­i­cal­ly sound and cost-effec­tive. His pre­sen­ta­tion includes many rec­om­men­da­tions for trees, shrubs, forbs and grass­es that do well with min­i­mal water.
The Annu­al Gar­den­ing Work­shop is a day-long event, with not­ed author­i­ties speak­ing on a wide vari­ety of top­ics of inter­est to PNW coastal gar­den­ers. This year our keynote speak­er is the respect­ed author, speak­er, edi­tor and 'hor­ti­col­orist' Lorene Forkn­er Edwards. The author of five gar­den­ing titles includ­ing the best­selling "Hand­made Gar­den Projects" and the "Tim­ber Press Guide to Veg­etable Gar­den­ing: Pacif­ic North­west." Lorene is the edi­tor of Pacif­ic Hor­ti­cul­ture, a mag­a­zine that sup­ports the pow­er of gar­dens to enrich life and help heal our plan­et. She is pas­sion­ate about per­son­al­i­ty-infused gar­den spaces and the beau­ti­ful, fruit­ful, and inno­v­a­tive land­scapes of our region.
Mul­ti­ple choic­es allow you to plan your day to attend ses­sions of inter­est to you. Top­ics include com­mon pests, dis­eases and fruit dis­or­ders; prun­ing objec­tives and basic prun­ing skills; how to grow cab­bage and its rel­a­tives for a year-round har­vest; eat­ing sea­son­al­ly from your gar­den for nutri­tion and health; mag­i­cal orna­men­tals: ros­es, salvia, and the dra­ma of foliage; 25 tips to make you a bet­ter, smarter gar­den­er; and how to deter­mine what's wrong with your plant.
Vis­it GardenWorkshop.org for com­plete descrip­tions of each ses­sion and our speaker's biographies.
Pur­chase tick­ets here. Tick­ets are $40 online, $45 at the door. Advance pur­chase high­ly recommended.
Octo­ber 20th 8:00 – 4:30
Reg­is­tra­tion opens at 8am; cof­fee, tea, and pas­tries avail­able. Keynote begins at 9am.
Fri­day Har­bor Mid­dle School
85 Blair Ave.
Fri­day Har­bor, San Juan Island
Are you inter­est­ed in becom­ing a Mas­ter Gar­den­er volunteer?
Our next train­ing ses­sion begins Jan­u­ary 29th, 2019, in Fri­day Har­bor. Train­ing occurs every Tues­day from 9am‑3:30pm through March 26th. Appli­ca­tions are due by Novem­ber 1.
For more infor­ma­tion, please con­tact Caitlin Blethen at mg.sanjuancounty@wsu.edu or 360–370-7663. Infor­ma­tion about the pro­gram and what vol­un­teers do is locat­ed here.
The Annu­al Gar­den­ing Work­shop is pre­sent­ed by the Mas­ter Gar­den­er Foun­da­tion of San Juan Coun­ty in Coop­er­a­tion with the San Juan Coun­ty Wash­ing­ton State Uni­ver­si­ty Exten­sion. Rea­son­able accom­mo­da­tions will be made for per­sons with dis­abil­i­ties and spe­cial needs who con­tact the WSU San Juan Coun­ty Exten­sion office at 360–370-7663 or ma.sanjuancounty@wsu.edu at least two weeks pri­or to the event.
You can support the San Juan Update by doing business with our loyal advertisers, and by making a one-time contribution or a recurring donation.