Test of the National Wireless Emergency Alert System
Posted October 2, 2018 at 6:05 am by Peggy Sue McRae
IMPORTANT: At approximately 11:20am PST on Wednesday October 3rd, FEMA will conduct the first ever NATIONWIDE test of the Wireless Emergency Alert (WEA) and Emergency Alert System (EAS).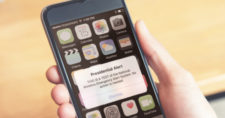 This means that all cell phones that are turned on, with­in range of a tow­er, and whose car­ri­er par­tic­i­pates in WEA will make a loud buzz and tone and receive a test message.
The mes­sage will also be sent to all TV and radio sta­tions across the USA.
Please help spread the word that this is happening.
In the islands, we'd use WEA as one tool of many to help spread the word about an impend­ing urgent emer­gency. We would NOT use it for a fore­cast storm, a small scale emer­gency, or some­thing that is not time sensitive.
One of the best uses of WEA is for tsuna­mi warn­ings, but remem­ber that in the islands our VERY BEST tsuna­mi warn­ing sys­tem is that we'll feel A VERY LARGE EARTHQUAKE and then know that we should head to high ground, at least 25 feet above sea level.
You can support the San Juan Update by doing business with our loyal advertisers, and by making a one-time contribution or a recurring donation.