Wolverine Football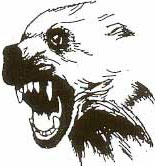 After being on the road for two straight weeks the Friday Harbor Wolverines get to stay home tonight to take on the LaConner Braves at 6:30. Both teams are 0-1 having lost to the Concrete Lions.
Friday Harbor faces a familiar foe in the Braves from La Conner consisting of mainly sophomores and all starters returning from the previous season. The Braves have threats in both the running game, with junior, Arjuna Adams, and in passing with junior Mason Miles. To top off the returners on offense, the Braves welcome back sophomore quarterback Brady Wyles.
The defense for the Braves is led by senior Harley Hulbert who has made it apparent during their first five games that he is in control of stopping the run game and helps in the run support. The Wolverines' Emeron Geiser and Kyson Jackson can expect to work for every yard since the defensive line is solid.
In the passing game for Friday Harbor, Jaden Jones, Jordan Lawson and company may find extra yards in the air as passing has been the most yards allowed against the Braves.
"Friday Harbor doesn't exactly fill the sky with footballs," says Friday Harbor Tiny Radio play-by-play announcer Mike Martin. He says that the Wolverines continue to work on both aspects of the offense. "The Wolverines had a hard-fought game in their loss last week to the Highline Pirates and each week they take another step forward."
Friday Harbor Wolverines will be facing a lot of pressure coming into Friday night's game. Last week, Friday Harbor fell to 2A Highline 19-6 while La Conner went down at home 42-7 against Concrete. Although this is just the second league contest it's a must-win game for the home team.
"It takes a lot of pressure to create a diamond," Martin said. "Early in the season this team has a lot of diamonds in the rough that are now beginning to shine."
With the Braves losing to the Lions both teams sit at 0-1 in league play with their losses coming from Concrete who they will face again later in the season. If either or both teams snag a win from the Lions, this game could potentially have a large impact on the Wolverine's postseason outcome.
"We have told the kids that playoffs start Friday. We have to win out to force a playoff for the league title. That has been the goal from the start," said Wolverine head coach Brock Hauck. "It was a difficult non-league schedule. We went 3-2 but could have won every game. The program is building, and playing quality teams helps the process."
The Wolverines and Braves face off in Friday Harbor on Friday October 12th, kickoff happening at 6:30pm.