Fans Family Carnival at the Fairgrounds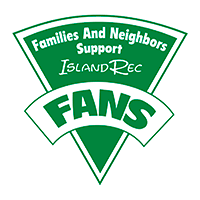 Family fun returns with the seventh annual FANS Carnival at the Fairgrounds Building on Saturday, November 17th from 11:00 am to 2:00 pm.
The Carnival features a Monster Truck Slide, a Pirate's Revenge Obstacle Course, 20 Carnival Games, cotton candy, sno-cones, and the Kiwanis FAN Friendly Cafe with hot dogs and more.
Admission is free. $1.00 tickets will be sold for the games, inflatables and food. Face-Painting and Palm Readings are free.
Game winners will receive tokens which can be combined to obtain much nicer prizes than in the past.
Each child will receive a free raffle ticket to win a bicycle, scooter, and more.
For more information or to volunteer at the carnival contact David Waldron at 378-3070 or davidwaldron@interisland.net.
FANS was formed in 2012 as a nonprofit group to create new opportunities for Island Rec to expand its parks, programs and services. Proceeds from the Carnival help FANS in that mission.