Hospital District Public Budget Hearing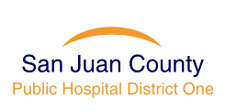 San Juan County Public Hospital District #1 will be holding its public budget hearing next Wednesday Nov 7th, 3:45 p.m., at the Frank Wilson Memorial EMS Building.
The Special Meeting will begin at 3:00 p.m. then go directly to an executive session. The board will return to open session at 3:45 p.m. for the public budget hearing.
Agenda is here (PDF), but is subject to change up to 24 hours before the meeting begins.