Letter from Steve Brandli
Posted November 9, 2018 at 5:43 am by Tim Dustrude
In the SJ Update Mail­bag this morn­ing we have this let­ter to you from Steve Brandli…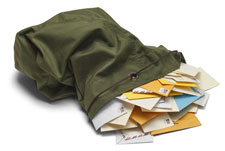 My con­grat­u­la­tions go to Car­olyn Jew­ett for her elec­tion as our next Dis­trict Court judge. She worked hard and ran a tena­cious cam­paign, and the results prove that it was effec­tive. I wish Ms. Jew­ett well on the bench.
I also want to thank my many sup­port­ers in this elec­tion for their devo­tion of time, ener­gy, ideas, and encour­age­ment. Their let­ters and endorse­ments were, for me, very mov­ing. These spe­cial peo­ple car­ried me through these last few months. For that, I am very grateful.
My biggest thank you goes to my wife, BJ. After 25 years with her, I con­tin­ue to be blown away by her love and sup­port. As my cam­paign man­ag­er, she poured her heart and soul into this cam­paign. I have no words to ade­quate­ly express the depths of my grat­i­tude for her.
You can support the San Juan Update by doing business with our loyal advertisers, and by making a one-time contribution or a recurring donation.