Neighborhood Toy Store Day
Friday Harbor's own Toy Box joins the American Specialty Toy Retailing Association (Astra) in the Ninth Annual Celebration of Small Businesses Nationwide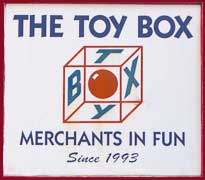 Shop Local and Celebrate Neighborhood Toy Store Day November 10 in Advance of the First Holiday Shopping Season without Toys "R" US
The Toy Box will be one of hundreds of retailers across the country celebrating Neighborhood Toy Store Day on November 10, 2018. Spearheaded by ASTRA, the annual observance asks shoppers to remember the neighborhood toy stores in their communities as they kick off the holiday shopping season.
Scheduled ahead of Black Friday, Small Business Saturday and Cyber Monday, the day offer shoppers discounts, special events and hands-on experiences with children's toys. The annual celebration is perhaps more noteworthy than ever before, given the increased focus on the value of neighborhood toy stores in the wake of the Toys "R" Us bankruptcy. The Toy Box will offer fun, child-friendly activities such as instant discounts at the register, free samples, cookies! and Craft activities
"Our local stores make holiday shopping easier, by offering a personalized approach and customer service that one will not find shopping large retailers," said Nancy Buechner, owner The Toy Box Friday Harbor. "Our friendly and knowledgeable staff is ready to help you find that special toy. AND as always, we offer free gift wrapping."
In addition, shopping locally supports the community by creating jobs and preserving neighborhoods. Compared to chain stores, independent local businesses put a significantly larger share of revenue back into the local economy in the form of taxes, salaries and more.
Specialty toy store owners are the real experts when it comes to choosing toys for kids – These store owners spend time with kids day in and day out. They understand the value of play, and what types of toys will truly engage children.
As a result, neighborhood toy stores offer a carefully curated product selection and provide trusted recommendations on quality toys that offer good value. Because they needn't adhere to a national sales plan like major chains, they can customize their offerings to specific community needs. And because they source products from both big-brand manufacturers and small, entrepreneurial companies, they introduce children to a world of toys that, often, can't be found elsewhere.