Wolf Hollow Welcomes New Executive Director
Wolf Hollow is excited to introduce our new Executive Director, Chanda Stone. Chanda joined Wolf Hollow in September, assuming the helm from our previous Director, Amy Saxe-Eyler.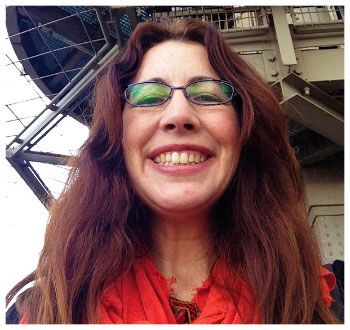 A native of southern California, Chanda has many years of experience as an arborist, wetland restoration coordinator and volunteer specialist. She earned a graduate degree from Portland State University and created TEAM Tualatin, a summer program for teens to restore natural wildlife habitats. Volunteering in the community is her passion. Chanda is a past board president for Nursing Mother's Council of Oregon, a Girl Scout Leader, and she currently serves on the board of the Friday Harbor Film Festival.
Chanda moved with her husband and two children to San Juan Island in 2017 after living and working for five years in Saudi Arabia. Having traveled the world, she and her family feel lucky to now call San Juan Island their forever home.
Chanda had this to say about joining Wolf Hollow:
"It is my honor and privilege to be selected as the new Executive Director of Wolf Hollow. It is my mission to carry on the great work of my predecessor and the wonderfully dedicated staff and board at Wolf Hollow. I look forward to meeting all of our supporters and working to advance our efforts to protect local wildlife and their habitats."
If you'd like to send Chanda a note to help us welcome her, she can be reached at director@wolfhollowwildlife.org.
We thank Amy for her years of service to Wolf Hollow and wish her the best of luck in her new nonprofit position at the San Juan Island Community Foundation!