FHL Tide Bites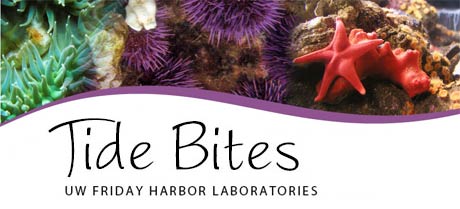 A Unique Challenge: Marine Subtidal Ecology at UW Friday Harbor Labs
by Pema Kitaeff & Alex Lowe
Despite windy weather and choppy water just the day before, the morning of Friday June 22nd 2018 dawned gloriously sunny and calm: a gift of optimal conditions bestowed on the patient planners of field work. Few have been as deserving of such a gift as the 12 students in the Marine Subtidal Ecology (MSE) course offered during Session A this past summer FHL.
June 22nd was only their 13th day in the San Juan Islands but it marked the culmination of the Kelp Ecosystem Ecology Network (KEEN) data collection, for which they had been preparing before they even arrived.
This year's MSE was the first time a scientific diving course was administered to a full roster of students within an academic course at FHL. Led by Dr. Aaron Galloway (U. of Oregon), soon-to-be-Dr. Alex Lowe (UW), and Dive Officer Pema Kitaeff (FHL), the course is built around the American Academy of Underwater Sciences (AAUS) standards and ultimately qualifies students as full scientific divers.