FHL Tide Bites
Posted December 4, 2018 at 5:46 am by Tim Dustrude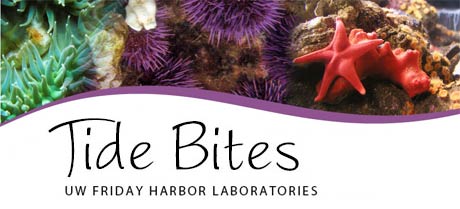 A Unique Challenge: Marine Subtidal Ecology at UW Friday Harbor Labs
by Pema Kita­eff & Alex Lowe
Despite windy weath­er and chop­py water just the day before, the morn­ing of Fri­day June 22nd 2018 dawned glo­ri­ous­ly sun­ny and calm: a gift of opti­mal con­di­tions bestowed on the patient plan­ners of field work. Few have been as deserv­ing of such a gift as the 12 stu­dents in the Marine Sub­ti­dal Ecol­o­gy (MSE) course offered dur­ing Ses­sion A this past sum­mer FHL.
June 22nd was only their 13th day in the San Juan Islands but it marked the cul­mi­na­tion of the Kelp Ecosys­tem Ecol­o­gy Net­work (KEEN) data col­lec­tion, for which they had been prepar­ing before they even arrived.
This year's MSE was the first time a sci­en­tif­ic div­ing course was admin­is­tered to a full ros­ter of stu­dents with­in an aca­d­e­m­ic course at FHL. Led by Dr. Aaron Gal­loway (U. of Ore­gon), soon-to-be-Dr. Alex Lowe (UW), and Dive Offi­cer Pema Kita­eff (FHL), the course is built around the Amer­i­can Acad­e­my of Under­wa­ter Sci­ences (AAUS) stan­dards and ulti­mate­ly qual­i­fies stu­dents as full sci­en­tif­ic divers.
You can support the San Juan Update by doing business with our loyal advertisers, and by making a one-time contribution or a recurring donation.