Free E-cycle Service Coming Soon
Tom Doenges, owner of Computer San Juans wants you to know about this new service coming to an island near you…
Calling all small businesses, schools, ports, town and individuals…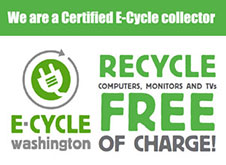 I am joining forces with a friend who runs an electronics recycling company in Bellingham called 1pc.com. Because I feel I contribute to bringing these devices to the islands by selling and servicing computers, etc. I want to help the 'end of cycle' and find the right disposal method.
Our planet needs all the help it can get and I hope this will in some small way contribute to a cleaner world for us all. I am so happy this came along, and I want folks to know I am doing this for free.
What can you recycle for free?
Televisions, Computers, Laptops, Monitors, Tablets, e-readers and portable DVD players. (Please note that computer peripherals such as keyboards, mice, and printers are not included in this program.)
Data will be securely destroyed and everything will be recycled, as well as becoming refurbished systems for sale when feasible.
A date will be set early next year for a truck to come to the island(s). We are working on getting the other ferry serviced islands in on this program as well so please spread the word and be thinking about items you have that will fit this e-cycle drive.
I will be starting an e-mail list so if you want to be included on the news: please send an email to: computersanjuans@centurytel.net with "FREE ECYCLE" in the subject line.
Lets keep the islands clean and green through safe and sane disposal. I could also use assistance to organize pick up and drop off locations on all ferry serviced. If you would like to help, contact me at your earliest convenience.