Sculpting Demonstration at IMA This Week
Posted December 19, 2018 at 5:53 am by Tim Dustrude
North­west artist Gareth Cur­tiss is bring­ing his bronze sculpt­ing project to Fri­day Har­bor Decem­ber 17th through 21st so that the pub­lic may share in the cre­ation of the Ed War­bass sculp­ture he is mak­ing for the town.
The pub­lic is invit­ed to watch and inter­act with the artist in a tem­po­rary work space being cre­at­ed for him in the glass atri­um at the front of San Juan Islands Muse­um of Art (SJIMA).
Cur­tiss will demon­strate the clay sculpt­ing process that pre­cedes mold-mak­ing and bronze cast­ing. He intends to work on the bust for the life-size stat­ue which will depict town founder Cap­tain Edward D. War­bass sit­ting on a park bench with his dog, Bob, by his side.
The sculp­ture will be installed on First Street at the entrance to Sun­shine Alley by fall 2019. A clay maque­tte of the sculp­ture is avail­able for pub­lic view­ing at Town Hall.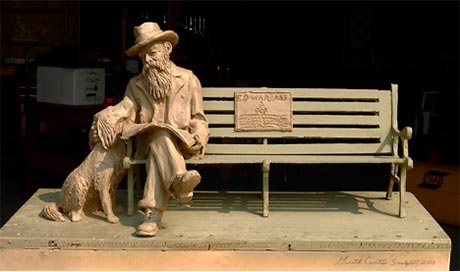 The museum's Atri­um Gallery will be open from 11 am to 5 pm through­out that week for view­ing the sculpt­ing process. No admis­sion will be charged. Vis­i­tors will also be able to watch a 2016 episode of PBS's "Com­mon Ground" fea­tur­ing Cur­tiss demon­strat­ing the bronze sculpt­ing process—start to finish—while cre­at­ing a stat­ue of Chief Bemid­ji for the city of Bemid­ji, Minnesota.
Cur­tiss was select­ed from sev­er­al pro­fes­sion­al bronze artists who respond­ed to the Town's 2017 request for sculp­ture pro­pos­als. In his 30 years as a pro­fes­sion­al sculp­tor, Cur­tis has com­plet­ed close to 50 pieces that are dis­played through­out the coun­try. Sam­ples of his work may be viewed on his web­site at http://www.garethcurtiss.com/.
Ed War­bass is one of three men cred­it­ed with found­ing the town. He was instru­men­tal in break­ing San Juan Coun­ty away from What­com Coun­ty and mak­ing Fri­day Har­bor its coun­ty seat. The art site was select­ed to high­light an entrance to Sun­shine Alley as part of the Town's Sun­shine Alley Design Plan.
This is the third major art project involv­ing the Fri­day Har­bor Arts Com­mis­sion since its for­ma­tion in 2015. Pre­vi­ous projects include the Sunken Park mur­al, "Wit­ness the Beau­ty," and Tom Small's stone bench­es in Breeze­way Park.
You can support the San Juan Update by doing business with our loyal advertisers, and by making a one-time contribution or a recurring donation.