SJC PHD Special Board Meeting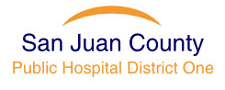 San Juan County Public Hospital District No. 1 will be having a Special Board Meeting on Thursday, January 10th. It will begin at 1:00 p.m. rather than the usual time, but will be at the usual place – the Frank Wilson Memorial EMS Building.
The purpose of this meeting is to potentially appoint an Interim EMS Chief and hold interviews, discuss the notice of complaints from DOH, and review the commissioner job duties document.
Agenda and meeting notice [at this link]. Agenda is subject to change up to 24 hours before the meeting start time. Latest versions are posted to the website.