Community Pet Food Drive and 12th Annual 'Spay-Ghetti' Dinner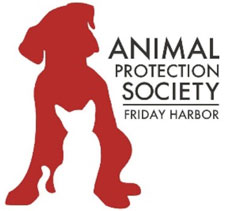 February welcomes both Spay/Neuter Awareness Month and World Spay Day. To celebrate The Animal Protection Society of Friday Harbor will host two annual events to educate on the importance of altering and to encourage pet parents to have their pets sterilized. The first, Pet Pantry Community Pet Food Drive February 1 through 26. Then on Tuesday, February 26 at the Mullis Senior Center, the twelfth Annual 'Spay-Ghetti' Dinner'.
Pet Pantry Community Pet Food Drive: Through February 26 APS-FH invites shelter friends, family and supporters to help keep happy pets in their island homes by donating wet or dry cat and dog food, cash or checks. For pet food donations, look for one of several collection bins and for cash or check donations please contact Leslie Byron, Director APS-FH, at 360.378.2159. All Pet Pantry community pet food drive donations will be distributed to island pet families in need. Collection bin site locations include, APS-FH, Treasure Hounds (next to Cousin Vinnie's NY Pizza Cafe), Islanders Bank, Key Bank, Islands Veterinary Clinic, Friday Harbor Market Place and Friday Harbor Pet Supply. Businesses and/or groups are encouraged to collect as a pack with a Most-Collected Winner announced at the 'Spay-Ghetti' Dinner. To schedule a pack pickup please contact Kalvin Galligan at 360.298.1330.
"Spay-Ghetti' Dinner: The Twelfth Annual 'Spay-Ghetti' Dinner will be held this year at the Mullis Senior Center on Tuesday February 26 from 5:30 pm to 7:30 pm, rain, snow or shine. Offerings include both meat and vegetarian spaghetti, garlic bread, Caesar Salad, dessert buffet, spirited and non-spirited beverages, music and a raffle for a wonderful work from Cakes by Felicitations.
"Our findings show that the number of dogs and cats being killed in the U.S. each day has dropped from more than 9,000 per day to 5,500 per day (or two million per year) over the last six years.

Please take a moment to reflect on this. It's a big accomplishment — not only because of the decrease in the number of animals killed, but also because we are finally able to measure our lifesaving progress on a national scale." Gregory Castle, CEO Emeritus, Best Friends Animal Society.
About Pet Pantry – Animal Protection Society of Friday Harbor
APS-FH Pet Pantry's Mission is to help island families keep their fur kids where they belong, in their homes, warm and happy with their families. Operated through the Animal Protection Society of Friday Harbor, the Pet Pantry is open on Wednesdays from 12:00pm to 3:00pm providing dog and cat food as well as provide information on our spay/neuter assistance.