Friday Harbor Bike Fest
Posted February 28, 2019 at 5:50 am by Tim Dustrude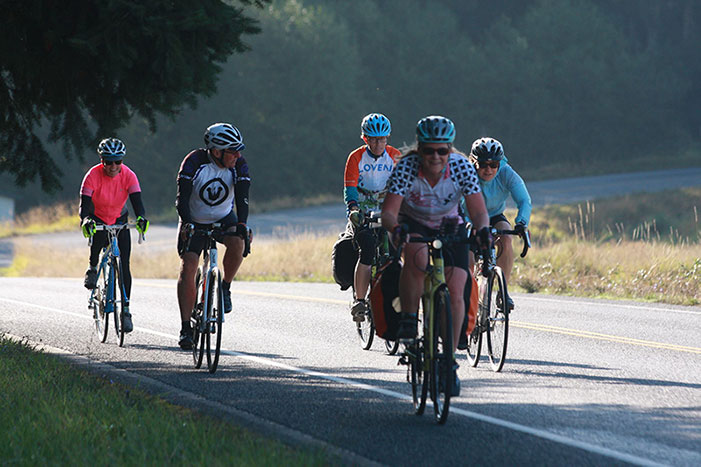 The upcom­ing Fri­day Har­bor Bike Fest is the third annu­al bike ride spon­sored by the San Juan Lions Club. In the past this event was known as the Fri­day Har­bor Bike-n-Brew.
This year's event is being held on June 1st to coin­cide with the 30th annu­al San Juan Island Artists' Stu­dio Tour. There will be numer­ous ride options, a 12-mile ride, a 20-mile ride, and a met­ric century.
Oth­er choic­es include the option to take in the San Juan Island Artists' Stu­dio Tour (approx­i­mate­ly 37 miles) by bik­ing from stu­dio to stu­dio or just choos­ing your own course on our beau­ti­ful island backroads.
The fee for the rides has been sim­pli­fied; $50.00 for a sin­gle rid­er, $80.00 for a cou­ple, and $100.00 for fam­i­lies (imme­di­ate).
This year's event is being held at San Juan Island Brew­ing in down­town Fri­day Har­bor. Break­fast (no host) will be avail­able start­ing at 8:00 am from the local Cut­throat Pirates. The sup­port­ed rides will be from 10:00 am to 4:00 pm but you can start and fin­ish any time you wish. There will be SAG stops in a cou­ple of key loca­tions along the routes staffed by Lions mem­bers and friends of bik­ing. The above fee includes a Tri Tip BBQ meal, fea­tur­ing local BBQ afi­ciona­do Bil­ly Gre­wohd (veg­an burg­ers will also be avail­able), at the end of the ride. For your enjoy­ment there will also be 4 hours of live music pro­vid­ed by local musi­cians start­ing at 3:00 pm. Enjoy a pint of Ale or Lager from the local­ly craft­ed San Juan Island Brew­ing Co. or sip a glass of wine from award win­ning estate-grown San Juan Vine­yards at an addi­tion­al cost.
This event is a fundrais­er of the local Lions club. Net pro­ceeds sup­port local needs in our com­mu­ni­ty includ­ing, but not lim­it­ed to, col­lege schol­ar­ships for local stu­dents, vision and hear­ing needs and etc.
Come and enjoy San Juan Island with its fan­tas­tic views of the Sal­ish Sea, sur­round­ing majes­tic moun­tains, lush farm­land scenes and per­haps catch a glimpse of a fox or two or maybe even expe­ri­ence a whale sighting.
For more details please see our web site, www.FridayHarborBikeFest.org .
You can support the San Juan Update by doing business with our loyal advertisers, and by making a one-time contribution or a recurring donation.