Weather Update: From SJC Emergency Management
Posted February 11, 2019 at 4:49 pm by Peggy Sue McRae
MONDAY 4:30PM UPDATE: As most islanders have prob­a­bly noticed, it's snow­ing heav­i­ly across the islands. Cur­rent fore­cast is for up to 8 inch­es of snow to fall, with many parts of the islands receiv­ing less, some pos­si­bly a bit more. Snow is pre­dict­ed to taper off as we head into Tues­day morn­ing, though there may be addi­tion­al accu­mu­la­tions dur­ing the day tomorrow.
San Juan Coun­ty Pub­lic Works and Town of Fri­day Har­bor crews are work­ing long shifts keep­ing Pri­or­i­ty 1 Routes pass­able. Here are links to Snow Pri­or­i­ty Routes for
Orcas
,
San Juan
, and
Lopez
Islands. Please note that crews will stand down late each evening, after last fer­ry arrives, and will begin road clear­ing again around 5AM. Giv­en cur­rent con­di­tions, all roads, includ­ing Pri­or­i­ty 1, will require care to nav­i­gate safe­ly, and islanders are encour­aged to use com­mon sense and good judg­ment when decid­ing when and where to dri­ve. There have been numer­ous reports of spin outs and minor acci­dents since snow began falling.
Tem­per­a­tures are fore­cast to slow­ly increase some­what as the week pro­gress­es, like­ly lead­ing to a tran­si­tion to rain lat­er on Tues­day or into Wednes­day. Cur­rent pre­dic­tions indi­cate that new pre­cip­i­ta­tion lat­er in the week will like­ly fall as rain.
Click on image to enlarge…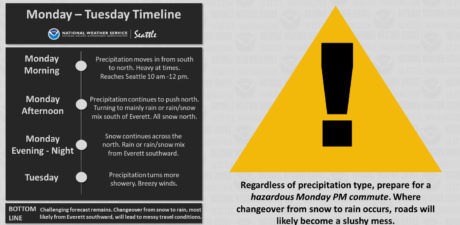 You can support the San Juan Update by doing business with our loyal advertisers, and by making a one-time contribution or a recurring donation.