A Letter of Thanks
In the SJ Update mailbag we find this letter from Rich Meenan…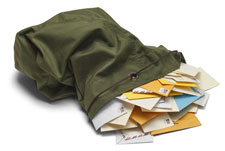 The San Juan Public Schools Foundation wants to thank everyone who helped make Monday night's silver anniversary Knowledge Bowl a smashing success:
The teams from Friday Harbor 8th through 12th grade, Spring Street International School, Kiwanians (congratulations, winners!), Lions, Soroptimists, and Rotarians for a terrific competition
The San Juan Community Theatre staff for so much technical support
The many local businesses that donated raffle prizes and gift certificates
Cart Nelsen and the High School Jazz Band for more great music
The High School PTA for all the tasty bake sale items
Andy Anderson for an inspiring presentation about our amazing school arts program
And, not least, Brent Snow for generously hosting another evening of fun and laughter as emcee.
Great thanks to all and see you next year at the 26th Knowledge Bowl!
Martha Alvarado
T.J. Heller
Darla Jungmeyer
Krista Mattox
Karen Meenan
Rich Meenan
Brian Moore
Jacoba Porter
Jennifer Thomas