Building Classes at SVC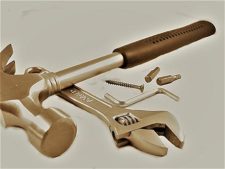 It is that time of year for building and remodeling projects!
The San Juan Center of Skagit Valley College is running two separate building related classes. One class will discuss tiny home building in San Juan Country and the other will discuss remodeling in San Juan County. Classes are being held on both San Juan or Orcas Island. Full descriptions are below. Register for one or both!
Call the San Juan Center at 378-3220 for more information or to register.
Title: An Introduction to DIY House Remodeling in San Juan County
Looking to tackle a home remodel project? Where do you begin?
Under Washington state law, owners of real estate may legally act as their own contractors. This 7-hour seminar provides participants with information, resources, and problem-solving strategies to help achieve a successful building project. For those who are experienced, this seminar offers business practices to further sharpen their skills.
Participants will be prepared for the essentials of homebuilding/remodeling and residential contracting in San Juan County. For the DIYer, discussion of various trade standards and pertinent building codes is aimed at helping to make the work product meet professional standards. Further, participants will learn how to conduct an effective and cost-conscience project while maintaining their sanity. Essential in this process is establishing a firm legal basis of operations. Job costing, tracking costs, establishing quality standards and problem solving in construction will be raised, as well as other issues.
Class will be presented independently on both Orcas Island and San Juan Island (register for just one session on your preferred Island).
Class materials will include extensive reprints, some photos (or slides), lecture notes print outs, and bibliography. These materials will be presented in packet form, which is provided and kept by each participant.
Cost of class is $67.00
Class will be held at the Orcas Library on Saturday, March 30th from 10:00AM – 5:00PM
or
Class will be held at the San Juan Center in Friday Harbor Saturday, May 4th 9:00AM – 4:00PM
Title: Tiny Homes on Wheels (or Skids): Living Zen, Small and Legal by the County Codes
There is a resounding trend in house building and design occurring that declares that "smaller is better, more manageable, more environmentally friendly and less of a personal financial burden".
For the young who may be accustomed to retreating into a space the size of a private bedroom or student apartment, and for the senior who is looking to shed a lifetime of collected baggage, "tiny houses" have an appeal that begs for consideration.
This 7-hour seminar is a comprehensive discussion of the "what and how" of tiny houses. Whether the structure is built on wheels, skids or on a conventional foundation, keen planning is required to be a success. Some sample structural and floor plans will be available for illustration. This is a time for practical application combined with ingenuity and imagination. Applicable building codes if any and other legal aspects will be discussed.
Class will be presented independently on both Orcas Island and San Juan Island (register for just one session on your preferred Island).
Cost of class is $67.00
Class will be held at the San Juan Center in Friday Harbor Saturday, April 6th 9:00AM – 4:00PM
or
Class will be held at the Orcas Library on Saturday, April 27th from 10:00AM – 5:00PM