Seniors Vs. Staff Basketball Game
The FHHS Seniors vs Staff basketball game is on! Tip off for the annual GRAD NIGHT fundraiser is scheduled for Friday, March 8th at 6pm. Doors open at 5pm at Turnbull Gym for pre-game dinner and silent dessert auction.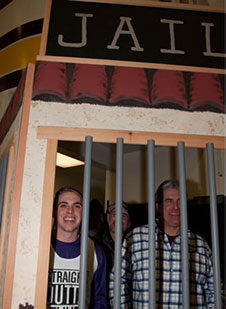 Throughout the evening, this entertaining event affords many fun opportunities for community members to support the FHHS PTSA as they continue the grad night tradition designed to keep our graduating seniors safe on graduation night.
The evening begins at 5pm with Andy Urbach's famous pulled pork sandwiches, chips and a beverage – all for only $10! At this time (and throughout the evening) attendees will be able to bid on gourmet desserts provided by local favorites, as well as buy "arrest warrants" to put the (least) favorite friend or family member in the court side jail.
San Juan County Deputies will be on hand to make the appropriate arrests. If you don't want to be jailed, for a reasonable fee, you can purchase a "get out of jail free" card. Otherwise, "you just have to hope someone bails you out!"
The game starts at 6PM. Entrance to the game is by donation.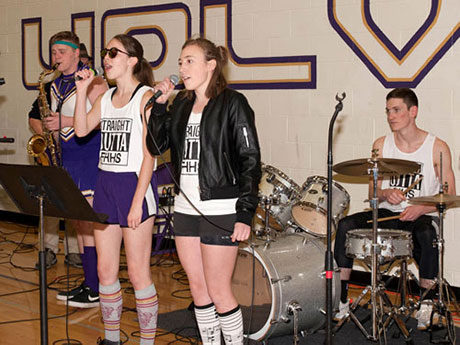 As is tradition, fans will be treated to a friendly, spirited and highly competitive game of basketball. Kids and teachers alike are out for a "W"! Half-time won't disappoint either – Mr. Sawyer's band returns, as well the half-court shooting contest ($1 per shot), AND spectators will bid on a two-night stay at the Snowater Resort in Glacier, near the Mt. Baker ski area.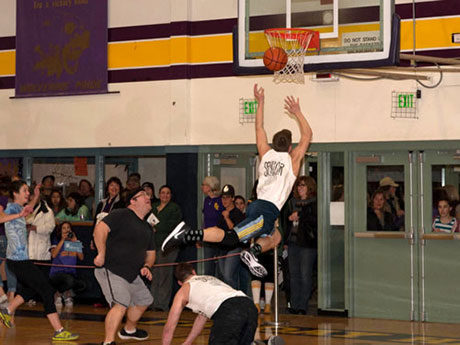 Senior grad night has been a tradition in Friday Harbor for years. Co-sponsored by the San Juan Island Prevention Coalition and FHHS PTSA, the evening is designed to make sure our graduation seniors have a fun, safe graduation celebration. The students are collected after graduation in buses and transported from one event to another throughout the night. Grad night committee members are working hard to put together a full evening of fun experiences. Planning for the event is hush-hush, with parents sworn to secrecy.
Grad night is supported by fundraising and donations from local businesses. As one local business person said, "it's a worthy cause to support, what can be more important than keeping our kids safe!" If you'd like to be a Grad Night sponsor, or make a (tax-deductible) contribution, please contact Tanja Williamson at 360-472-0337.
See you at the game!