Town Business License Program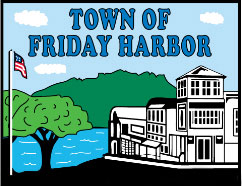 Effective April 1, 2019.
This important notice is directed to local Business Owners regarding the Town Business Licensing Program. New legislation has been passed that requires changes to the existing Town Business License Program.
Local business license renewals are typically due April 1st of each year. The expiration date for 2019 Friday Harbor business licenses has been extended until June in order for the Town to "go live" with new services provided through Washington State Department of Revenue, Business Licensing Services (BLS). As explained below, Town business licenses will be obtained together with State Licenses.
New business license applicants are asked to visit Town Hall and complete an application at no cost. The Town wants to know your contact information, location, type of business and other relevant information.
Business Owners will receive a mailer in April explaining the changes and summarizing new rules and the process. When the Town and BLS "go live" in April/May, all Business Owners (new & existing) will receive notice to renew their Friday Harbor business licenses directly with BLS and have the ability to do so online with their State master business license portal.
New Legislation:
Most individuals or companies that conduct business in Washington State already obtain a State Master Business License (UBI number) through BLS. In addition, a separate business license is often required in each location that the business operates.
Businesses that operate in multiple jurisdictions need to obtain licenses from each of the respective municipalities. Businesses have complained to the State legislature that this process is too burdensome. In 2017 the State legislature adopted EHB 2005 to address their concerns, simplify the administration of local business licensing programs and create some uniform regulations statewide.
All municipalities in Washington State that have business licensing programs are mandated to make certain changes by year 2020. The Town of Friday Harbor has opted to complete those changes in year 2019. Changes include amendments to Friday Harbor Municipal Code regarding the definition of "doing business"; implementing certain exemptions for businesses, including an exemption for businesses that generate $2,000 or less in the municipality per year; and partnering with the Washington State Business Licensing Service (BLS) to administer the program and collect fees. The statewide goal is to combine local business licensing programs with existing state business license account(s) and to synchronize the timing of licensing… essentially making it "one-stop shopping" for license related fees.
Questions?
More information will be made available as this process moves forward. The Town Clerk can be contacted at (360) 378-2810 with questions or concerns.