A Wheel in Time
2019 San Juan County Fair Theme is "A Wheel in Time: Cultivating Roots"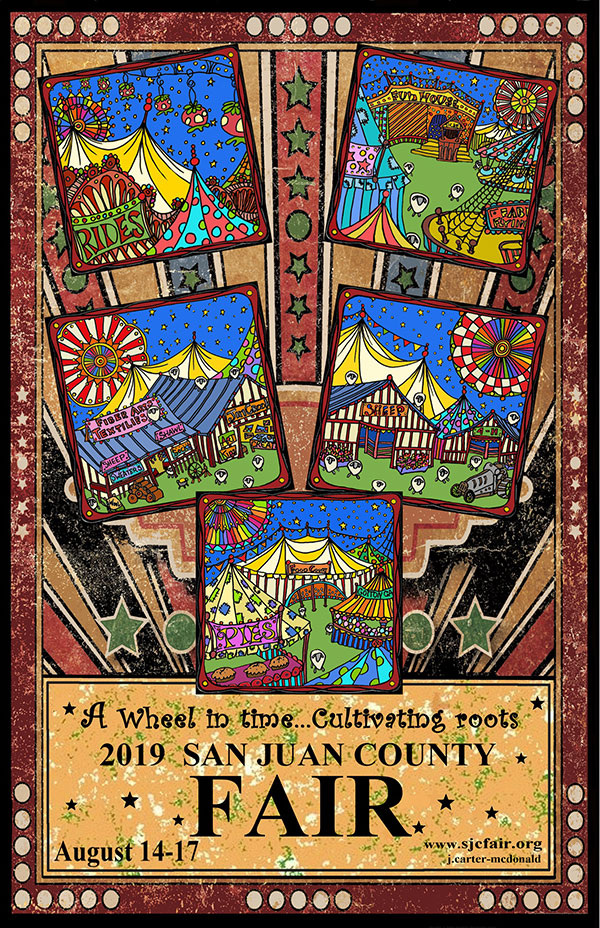 Mark your calendars! The San Juan County Fair dates are set for August 14-17, 2019 and this year's theme is "A Wheel in Time: Cultivating Roots". Artist Jessie Carter McDonald was selected by the San Juan County Fair Board to be this year's poster artist.
Jessie's interpretation of the 2019 theme "A Wheel in Time: Cultivating Roots" captures this year's historical theme, and the circles (or wheels) that connect us to each other through farming & agriculture; arts & crafts; local food & culture; and our pastimes.
Prints of this poster are available to business owners who are willing to post the poster in their business the month of August, and prints are also available by donation to members of the public before and during the Fair event in the Fair Administration office. Contact San Juan County Fairgrounds at 360-378-4310 or email info@sjcfair.org if you'd like to obtain a poster.
Read more this year's poster artist and her inspiration below.
Jessie Carter McDonald, Artist
With her heart and mind filled with a love of history, illustration and mystery Jessie took on the task of solving the riddle of the theme through illustration.
"I have a love affair with small county fairs and all of the history, community and magic that they bring to those who visit. From the rides and events all lit and garishly painted, to the animals, carnival food, local art and the history that is apparent in all of the exhibits and the meeting of old friends and new, how one would not fall in love."
In the winter of 2018, Jessie started on a series exploring her love of carnivals and fairs. This initial series was noticed by a fellow artist who encouraged Jessie to inquire about being the Fair's poster artist. This was the starting point and an original study in wheels, the Ferris Wheel.
As the theme continued to percolate, the roots started to take shape linking the depth of our islands history and the San Juan County Fair, research began and Jim Crook became a focus. It was Jim Crook's farming of sheep, creation of machines, the famous carding machine to process wool, that Jessie discovered the wheels of creativity and progress that still held true to present day island activity and small sheep farming, and the bigger creative process that is still in play on the islands.
It was with all this in mind that Jessie truly understood how a wheel in time carries the past into our present day. Where it beautifully cultivates roots that to this day brings us joy and beauty at the San Juan County Fair. Full Artist's bio is available online at www.sjcfair.org