A Wheel in Time
Posted April 24, 2019 at 5:50 am by Tim Dustrude
2019 San Juan Coun­ty Fair Theme is "A Wheel in Time: Cul­ti­vat­ing Roots"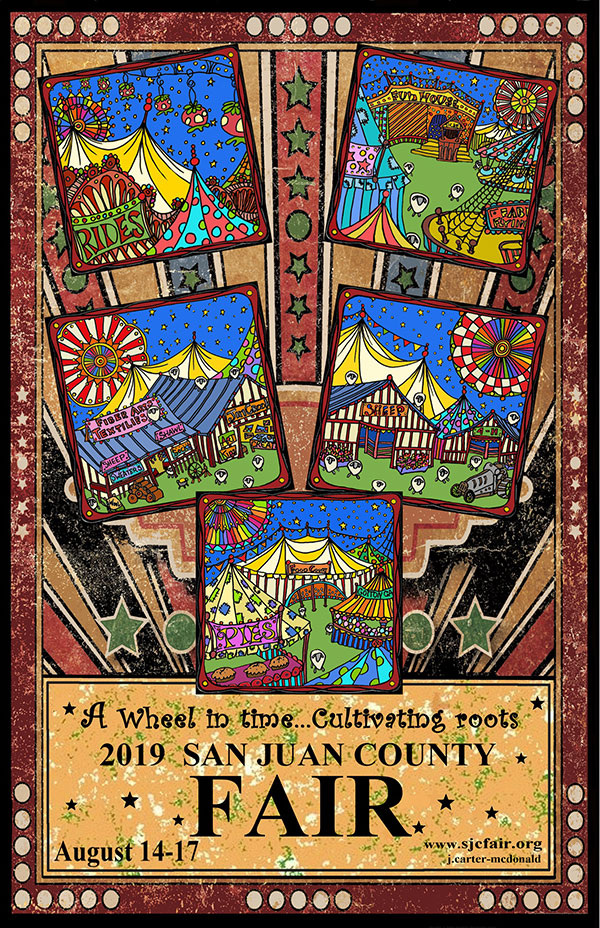 Mark your cal­en­dars! The San Juan Coun­ty Fair dates are set for August 14–17, 2019 and this year's theme is "A Wheel in Time: Cul­ti­vat­ing Roots". Artist Jessie Carter McDon­ald was select­ed by the San Juan Coun­ty Fair Board to be this year's poster artist.
Jessie's inter­pre­ta­tion of the 2019 theme "A Wheel in Time: Cul­ti­vat­ing Roots" cap­tures this year's his­tor­i­cal theme, and the cir­cles (or wheels) that con­nect us to each oth­er through farm­ing & agri­cul­ture; arts & crafts; local food & cul­ture; and our pastimes.
Prints of this poster are avail­able to busi­ness own­ers who are will­ing to post the poster in their busi­ness the month of August, and prints are also avail­able by dona­tion to mem­bers of the pub­lic before and dur­ing the Fair event in the Fair Admin­is­tra­tion office. Con­tact San Juan Coun­ty Fair­grounds at 360–378-4310 or email info@sjcfair.org if you'd like to obtain a poster.
Read more this year's poster artist and her inspi­ra­tion below.
Jessie Carter McDon­ald, Artist
With her heart and mind filled with a love of his­to­ry, illus­tra­tion and mys­tery Jessie took on the task of solv­ing the rid­dle of the theme through illustration.
"I have a love affair with small coun­ty fairs and all of the his­to­ry, com­mu­ni­ty and mag­ic that they bring to those who vis­it. From the rides and events all lit and gar­ish­ly paint­ed, to the ani­mals, car­ni­val food, local art and the his­to­ry that is appar­ent in all of the exhibits and the meet­ing of old friends and new, how one would not fall in love."
In the win­ter of 2018, Jessie start­ed on a series explor­ing her love of car­ni­vals and fairs. This ini­tial series was noticed by a fel­low artist who encour­aged Jessie to inquire about being the Fair's poster artist. This was the start­ing point and an orig­i­nal study in wheels, the Fer­ris Wheel.
As the theme con­tin­ued to per­co­late, the roots start­ed to take shape link­ing the depth of our islands his­to­ry and the San Juan Coun­ty Fair, research began and Jim Crook became a focus. It was Jim Crook's farm­ing of sheep, cre­ation of machines, the famous card­ing machine to process wool, that Jessie dis­cov­ered the wheels of cre­ativ­i­ty and progress that still held true to present day island activ­i­ty and small sheep farm­ing, and the big­ger cre­ative process that is still in play on the islands.
It was with all this in mind that Jessie tru­ly under­stood how a wheel in time car­ries the past into our present day. Where it beau­ti­ful­ly cul­ti­vates roots that to this day brings us joy and beau­ty at the San Juan Coun­ty Fair. Full Artist's bio is avail­able online at www.sjcfair.org
You can support the San Juan Update by doing business with our loyal advertisers, and by making a one-time contribution or a recurring donation.