Chamber Chat
This first edition of Chamber Chat for 2019 is written by Scott Sluis, 2019 San Juan Island Chamber Board President, Vice President and Senior Loan Officer, Islanders Bank…
"Banker by day and drummer by night"
Introduction: I thought my first Chamber Chat ought to be an introduction of myself since most of you do not know me, or at least not very well, since I am new to San Juan Island. So here it goes:
My family: My family and I moved here to the island December of 2017. My wife and I have 2 daughters, 16 and 11 years old that go to the amazing schools here and they have adjusted quite well and quickly. That fact is in most part to the very friendly and accepting nature of the kids in the schools – so thank you to all the parents out there that have kids in the public schools here – you're doing a great job. We also have a 29 year old son that still lives in Utah and we miss very much but he likes visiting here so that helps a lot.
We moved here from Utah where I worked in banking for 24 years, 15 of those with the same bank. The better part of my career there was as a branch manager and commercial lender. My most recent position that I was just promoted to prior to moving here was managing roughly 100 people in the loan closing department.
How did you get to San Juan Island from Utah?? My current supervisor was my supervisor in Utah for 10 years and he moved here about 6 years ago and when an opening became available. My wife and I visited the island and fell in love immediately and the rest is history.
In addition to being a banker I am also a drummer and have been playing for roughly 30 years. I played in several cover bands in Utah and also a couple of original music bands there as well. I have continued my love of playing music here on the island playing with several different musicians and also am a full time member of the local band Desolation Sound, an alternative rock original music band that just finished recording 6 new songs at Studio X in Seattle with Grammy Award winning producer Adam Kasper, (credits for him include working with bands such as Pearl Jam, Sound Garden, Foo Fighters and on and on), we will be sharing the LP with the world when they are done being mastered in the studio.
Community Experience: In Utah as Vice President of the bank I worked for I sat on several boards for non-profits and community organizations as a President, Chair or Executive Board Member. I love being involved with and in the community. I look forward to meeting all the Chamber members and hope to execute the position I have accepted the way the Chamber membership wishes.
Cheers and thank you for all your support. I look forward to seeing you at Chamber events, any music venues I am playing at and in the community in general.
And here's a Note from Becki Day, Executive Director of the San Juan Island Chamber of Commerce…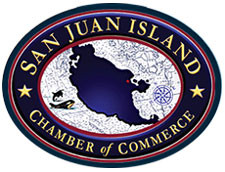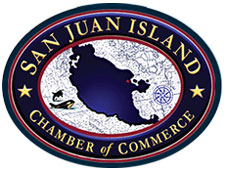 The Chamber has so much going on right now gearing up for the busy season, getting the visitor guides ready for the printers and making our plans for the 4th of July. Monday we are helping San Juan Canvas celebrate 40 years in business, we have our Quarterly luncheon on the 23rd and a ribbon cutting for the Web Suites and Altar Movement on April 26th. No wonder our days go by so fast!
We would like to welcome our new Chamber members as of January 2019:
Gina Borges, Real Estate Broker, gina.borges@icloud.com, John Lackey, Real Estate Broker, jdl@windermere.com, Jeremy & Suzette Jackson, Northwest Granite & Flooring, flooring@nwgraniteandflooring.com and Didier Gincig, Island Weddings and Events, islandswedding@gmail.com.
We look forward to seeing you all soon! Stop by and say hi, grab a new ferry schedule, check out our members! Happy spring!