Bellingham Bay Builders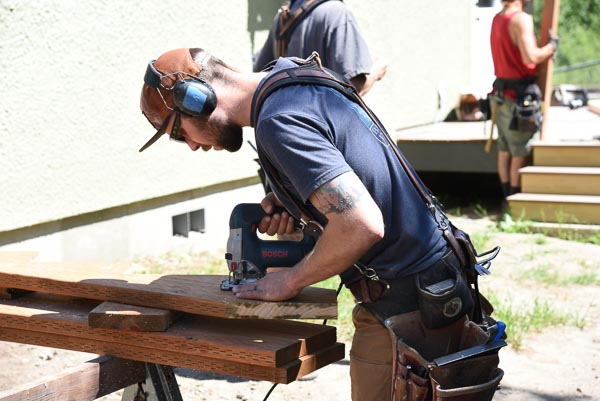 Chary Caren from the SJ Community Home Trust shares this story with you…
On the morning of Saturday May 18th, 11 members of the Bellingham Bay Builders, a worker's co-operative from Bellingham, arrived in Friday Harbor for their annual retreat, a yearly bonding experience, providing 1-1/2 days of work, donating their time, skills and expertise to help in the creation of affordable housing. This year they selected the San Juan Community Home Trust as their lucky targeted group and San Juan Island as their destination.
Bellingham Bay Builders was started in 2004 by four friends, Dave Brogan, Ross Grier, Tim Smith and Brian Forth, all of whom had had years of experience in building, woodworking and timber framing. Their installations have ranged from Bellingham to the San Juans to Japan accompanied by their tradition of fine craftsmanship, years of experience in building and rigorous project management. In 2006 they began to provide full service general contracting.
At the Home Trust's Sun Rise II neighborhood, this fast paced group of enthusiastic people constructed railings and handrails for the deck of McNeill, and partially completed the decks of three of the Home Trust's other not-yet completed houses (Stewart, St. Patrick and Windsor). The Home Trust Executive Director, David Gow, and Board members are extremely grateful to the Bellingham Bay Builders for the excellence of their workmanship and their effort in moving the Home Trust forward in the completion of the last four houses in Sun Rise II.
BBB members helping the Home Trust: Dave Brogan, Ross Grier, David Ghan, Jeff Mack, Justin Lonegan (and family), Daniel Whitsell, Jessy Griffin, Alex Griffin, Ian Dandridge, Andrew Eckert.
From the website of the Bellingham Bay Builders –
Guiding Principles:
a vibrant business supports the personal development of the workers

design and build to meet client's practical and aesthetic needs by focusing on
durability
energy efficiency and water conservation
healthy indoor environment
sustainability
comfort
maximizing financial equity

democratic decision making and a fair distribution of profits
honest and respectful communication, clear objectives and accountability
seek opportunities to use our talents for the enrichment of our community through charitable work
strive to reduce environmental impact through conscientious business practices, thoughtful design and building with respect for our limited natural resources
cultivate an inclusive workplace that appreciates and celebrates diversity of backgrounds and experiences
recognize and appreciate the good will of our clients, the beauty and abundance of our Pacific NW home, the camaraderie/friendship of coworkers, the opportunity to express creatively through our craft
believe in providing long-term work and living wages through growth and reinvestment in our company
support and admire courage in questioning assumptions
work with community members to create a shared prosperity, healthy local environment and strong community organizations
we pursue our work because it brings us joy and satisfaction