On Her Shoulders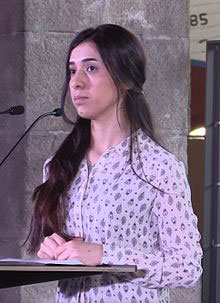 Friday Harbor Film Festival, Winter Series, Best of Fest is pleased to present "On Her Shoulders" Tuesday May 7th at the Grange at 7:00 pm.
This is a film about the extreme courage of one woman, Nadia Murad, now a Nobel Peace Prize Winner.
Nadia Murad, a 23-year-old Yazidi genocide and ISIS sexual slavery survivor, is determined to tell her story. As her journey leads down paths of advocacy and fame, she becomes the voice of her people and their best hope to spur the world to action.
On Her Shoulders is a compassionate, level-headed portrait of a remarkable woman. What it lacks in filmmaking fireworks, it makes up for in the sheer magnetism and moxie of its hero.
Come and see this important film at the Grange May, 7th at 7pm.