2019 Friday Harbor Fireworks Information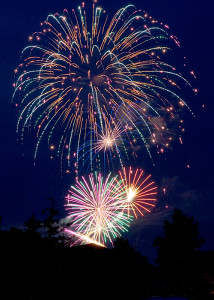 Do you remember how great the fireworks were last year? The Chamber needs your help in raising some fireworks funds!
Thanks to a generous matching grant from Kings Market and lodging tax funds from the Town of Friday Harbor, the San Juan Island Chamber of Commerce has once again commissioned local talent and pyrotechnical director, Nick Gislason, a 5th generation San Juan Islander, with the Lopez Community Fireworks, to design, setup, and fire the 2019 Friday Harbor 4th of July Fireworks Display.
The 2019 fireworks display promises to be as good if not better than last years! The display will start at 10:00 pm after a fun filled day of 4th of July festivities.
Lopez Community Fireworks is an all-Volunteer Team, with active members from Friday Harbor, Lopez and Orcas. The group first banded together 33 years ago to pursue pyrotechnics as their collective art form, with night sky as the canvas. The fireworks team has developed unique fireworks effects over the years that have garnered numerous awards at the Pyrotechnics Guild International Fireworks Competition, with a pyrotechnic style that is uniquely traditional.
Donations are needed so please do not delay in helping us out in making this the best 4th of July ever! All donations are welcome, no matter how large or small! Please mail them to San Juan Island Chamber of Commerce, PO Box 98, Friday Harbor, WA, 98250, or drop them off at our office at 165 First Street S., on the corner of First and Sunshine Alley.