Siri's Summer Ferry Schedule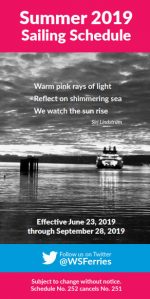 The WSF Summer 2019 Sailing Schedule is now online to help you plan any upcoming trips. Print versions will be available on vessels and at terminals soon.
The summer schedule runs from Sunday, June 23, through Saturday, Sept. 28. The cover features a poem written by Friday Harbor High School student Siri Lindstrum, the #WSFHaiku contest winner.
Out of nearly 200 entries, Siri's poem received the most "likes" of the three finalists on the @wsferries page back in March.