Summer 2019 Update from the SJC Land Bank
Posted June 29, 2019 at 5:50 am by Tim Dustrude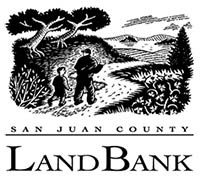 The Land Bank would like to share some of the things we've been doing for the com­mu­ni­ty recently.
At Mount Grant Pre­serve on San Juan there are now three trails open with more on the way! Instead of hik­ing up the road, two new trails (one mul­ti-use, one pedes­tri­an) now make their way through the for­est cre­at­ing a longer and less steep route up the moun­tain. On the west side, a trail now goes down to what we've been call­ing the Newt Pond, part of one the areas acquired at the end of 2017. We're also allow­ing vehic­u­lar access on Wednes­days (April – Octo­ber) as well as Sun­days, 10am-7pm.
We con­tin­ue our work to open Zyl­stra Lake Pre­serve to the pub­lic. We're get­ting through our last round of eco­log­i­cal assess­ments includ­ing wildlife, wet­lands, and water qual­i­ty and will be work­ing through our man­age­ment plan ear­ly next year. We are going to have sev­er­al guid­ed walks dur­ing the sum­mer and an open house on Sat­ur­day, Sep­tem­ber 7th.
Last year we pur­chased 155 acres adja­cent to Cady Moun­tain Pre­serve to buffer an exist­ing old growth area (one of the few in the islands), and pro­tect a land­scape of native wild­flow­ers, cedar for­est and wet­lands. This prop­er­ty strad­dles a Coun­ty road and will allow us to pro­vide pub­lic access – anoth­er plan­ning process that will take us into 2020 and beyond.
Also on San Juan, the Land Bank and Preser­va­tion Trust are work­ing on secur­ing a Pre­serve adja­cent to Fri­day Har­bor at Beaver­ton Marsh. Among our hopes is to pro­vide trails from town that will pro­vide views of the marsh and espe­cial­ly its win­ter water­fowl. Look for more this sum­mer on this acquisition!
Else­where in the islands, we recent­ly cel­e­brat­ed the per­ma­nent pro­tec­tion of the 400-acre Lopez Hill, which had been a school trust prop­er­ty open to log­ging or resale by the Depart­ment of Nat­ur­al Resources. In 2009, the leg­is­la­ture pur­chased a 50-year lease on the Hill and last year we used Land Bank funds to buy the remain­der. In the end, we com­plet­ed the acqui­si­tion with the Coun­ty only spend­ing a lit­tle over 15% of the total appraised value.
Also on Lopez we are col­lab­o­rat­ing with State Parks to expand Spencer Spit, and are close to final­iz­ing a con­ser­va­tion ease­ment on 130 acres of RR Bar Ranch. Addi­tion­al­ly, we are begin­ning our man­age­ment plan­ning efforts for the Chan­nel Pre­serve to pro­vide anoth­er spot for islanders to reach the shore­line. Stay tuned for the announce­ment of pub­lic meet­ings on this one.
On Orcas, we are fig­ur­ing out a change of man­age­ment at Cof­felt Farm after our non-prof­it part­ner decid­ed to close. In the short-term, Eric and Amy Lum will be man­ag­ing the farm at least through 2020. The Land Bank is work­ing with the Agri­cul­tur­al com­mu­ni­ty to chart a long term course. We see this icon­ic farm grow­ing food and serv­ing as a resource to oth­ers for many years to come.
We real­ly encour­age peo­ple to par­tic­i­pate in our plan­ning efforts and meet­ings – con­tact Tan­ja Williamson at tanjaw@sjclandbank.org receive Land Bank updates – and, equal­ly as impor­tant, come out to our Pre­serves and take a look for your­selves. Let us know how we're doing and what we might do better.
Lin­coln Bormann
Direc­tor
San Juan Coun­ty Land Bank is a citizen's land con­ser­va­tion pro­gram cre­at­ed by Islanders in 1990 to ensure the rich and unique char­ac­ter of our islands endures into the future.
Our mis­sion is to pre­serve in per­pe­tu­ity areas in the coun­ty that have envi­ron­men­tal, agri­cul­tur­al, aes­thet­ic, cul­tur­al, sci­en­tif­ic, his­toric, scenic or low-inten­si­ty recre­ation­al val­ue, and to pro­tect exist­ing and future sources of potable water.
The Land Bank has 35 Pre­serves, 26 open to the pub­lic. Check out our web­site for direc­tions and trail maps: www.sjclandbank.org, or call us at 360–378-4402.
Yours to Explore.
You can support the San Juan Update by doing business with our loyal advertisers, and by making a one-time contribution or a recurring donation.