Survey Says – Fair Feud Needs Your Help!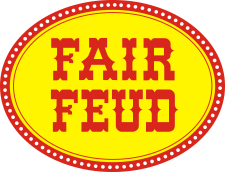 Fair planning is underway, and we would like your help by answering these important questions to our Fair Feud survey.
During Fair week, you can watch local teams battle it out in the semi-final rounds on the Community Stage at 5:30pm on Thursday, August 15th and again at 5:30pm on Friday, August 16th.
Our semi-final champions will then compete in the Fair Feud Finals on Saturday, August 17th at 5:30pm on the Main Stage! You won't want to miss out on the excitement, and see if your survey answers were the indeed the "winners"!
For more Fair Feud information, please visit www.sjcfair.org or click here: 2019 Fair Feud!