Tribal Gallop BellyDance and Drum Troupe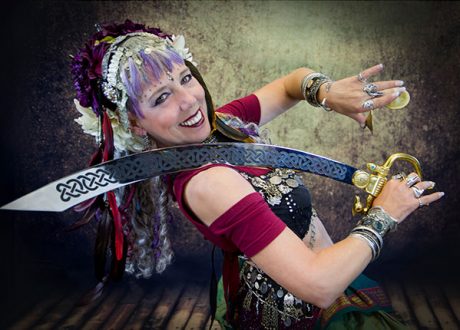 Susan Derr Drake and Paul Drake share this announcement with you…
Lalalalalalalalaaaa… in high notes, fast moving tongues and hands covering mouths, Zagarettes can be heard when Tribal Gallop arrives to BellyDance and Drum.
New to Friday Harbor, Susan Derr Drake, a Certified Tribal BlackSheep BellyDance Instructor and her Doumbek-drumming husband, Paul, offer classes and performances.
This American-born, follow-the-leader, family-friendly, improvisational format creates fun for the entire family from 8 to 80 years old. Tribal Gallop has something for everyone in a supportive tribe or gathering of islanders, whether you want to learn body isolations, suppling and strengthening moves, easy-to-learn steps or wear a blend of ancient with modern colorful costumes complete with finger cymbals (zills) and flowers in the hair while Dancing, drumming or performing to old Middle Eastern to modern American Pop music with different Tek-Ka-Doum rhythms with drums or zills.
Inspired by American Tribal Style (ATS) of the late 80's in San Francisco, according to the creator of this BlackSheep BellyDance format, Kajira Djoumanhna, says, "as Ambassadors of Joy, we have each other's back while following like a flock of birds or school of fish from the subtle cues of a leader that chooses, depending on musicality, one of 150 possible moves in Levels 1, 2 and 3. Using both sides of the body and in both directions with any of the 1 to 8 beats long possible moves the troupe creates an artistic improvisational dance that is not choreographed or ever the same. While trying to be true and correct to each 'move' there are no 'mistakes' by the dancers, only variations that we all joyfully follow."
The magical connection between the dancers supported by the drummers is unique to this style of BlackSheep BellyDance which can be found around the world. It is in the newest format of dance appreciating, honoring and blending so many cultures, with the oldest dance steps on the planet from the many countries on the silk trail, to the newest moves made by famous stars of the present.
You never have to lead or show your belly, but you are inspired to support everyone and have fun. Watch for Tribal Gallop around town, at the Harbor, in Parades, at the Fair, at private parties, or join a class and give a zagarette! lalalalalalaaa…! www.RidingAids.com