18th Annual San Juan Island Lavender Festival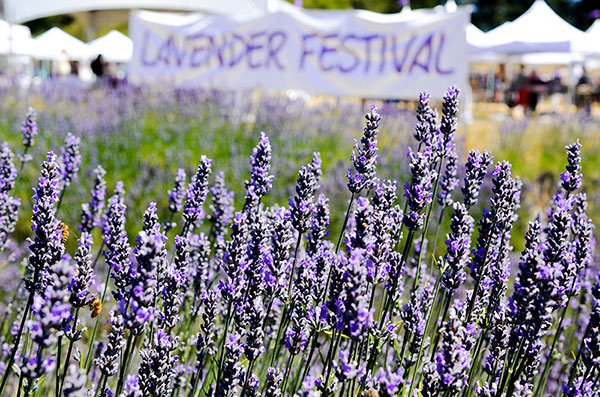 July 20 & 21, 2019 Pelindaba Lavender Farm will be hosting the San Juan Island Lavender Festival. All are invited to come see, smell, hear, touch and taste The Complete Lavender Experience®. Festival activities are scheduled 10am – 5pm both days. The event is free for all and open to the community. Pets are welcome and ample parking is available.
The San Juan Island Lavender Festival, now in its 18th year, continues to be a popular summer destination with several thousand visitors and islanders attending each year to celebrate all things lavender. The beautiful weather of late means the fields will be at their "peak of purpleness" for the festival.
The festival weekend will culminate in a Farm to Table Dinner in benefit of SAFE San Juans in the blooming fields. Coho Restaurant's extraordinary culinary team will feature the flavors of the summer season, drawing ingredients from local San Juan Island farms with a touch of culinary lavender from the surrounding fields.
Tickets may be purchased at Coho Restaurant at 360-378-6330. Seating is limited. Sunday night, July 21st, 2019.
Throughout the weekend, workshops, demonstrations and exhibits will survey the entire process – from field to finished product, including lavender cultivation, essential oil distillation and its many uses. Local Chef Anna Maria of Coho Restaurant will be presenting a tasty cooking with lavender demonstration – with samples to taste of course!
The fields will be open for strolling, relaxing and gorgeous photo ops. Visitors can harvest their own bouquets of certified organic lavender from the many varieties in bloom or take plants home for their own gardens.
The Craft Tent in the fields will be open all day for everyone to make beautiful wands, wreaths, crowns and more. Free kid's activities include a lavender coloring contest and a lavender treasure hunt.
Lavendera Massage will be providing relaxing massages in the fragrant fields throughout the day.
Lavender Ice Cream, Lavender Lemonade, lavender baked goods and a variety of picnic lunches, including favorites from Paellas San Juan and Tina's Tacos, will be available all day in the fields.
Be sure to bring your dancing shoes! Kubatana Marimba, Katura Marimba and Erandolin Strings Celtic Band will be performing throughout the weekend.
The San Juan Island Lavender Festival is a celebration of all things lavender for our island community and visitors and is sponsored by Pelindaba Lavender Farm and the San Juan Island Chamber of Commerce.
See you at the festival! For more information visit and schedule of events visit: www.pelindabalavender.com/lavenderfestival