"A Republic, if You Can Keep It"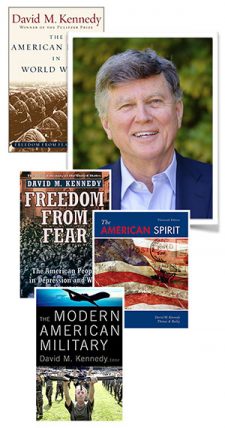 Insights from David M. Kennedy, Professor Emeritus at Stanford University
Join the San Juan County Democrats for an evening with David M. Kennedy, Donald J. McLachlan Professor Emeritus at Stanford University, to be held from 5:30-7:00 pm on August 8, 2019 at the San Juan Island Grange (152 First Street North, Friday Harbor, WA 98250). Q&A to follow presentation.
The title of Professor Kennedy's presentation recalls one of Benjamin Franklin's most famous quotes. At the end of the Constitutional Convention, he was asked what type of government had been adopted. Franklin responded: "A Republic, if you can keep it."
More than two centuries later, Franklin's warning about the fragility of the American experiment is more compelling than ever. In a wide-ranging discussion, Professor Kennedy, long-time San Juan Island summer resident, will explore the complicated historical dynamics that have brought the Republic to its present pass.
Reflecting his interdisciplinary training in American Studies, Professor Kennedy's scholarship is notable for its integration of economic and cultural analysis with social and political history. Freedom from Fear: The American People in Depression and War won the 2000 Pulitzer Prize for History. His most recent book is The Modern American Military (2013). In her review, Condoleeza Rice, former Secretary of State, observed: "We owe it to our servicemen and women and to those who command them to examine critically and debate the state of military affairs. This book is a significant contribution to that cause."
Professor Kennedy has his M.A. and Ph.D. from Yale University in American Studies and his B.A. from Stanford University in History.
This lecture is the third in a series of events sponsored by the San Juan Democrats to educate our community about issues of importance in the upcoming Presidential and Congressional elections. A donation of $20 is requested of all attendees. Additional sessions will be held on San Juan Island and Orcas on important themes such as immigration and foreign policy, trade, and healthcare.