Attic Treasures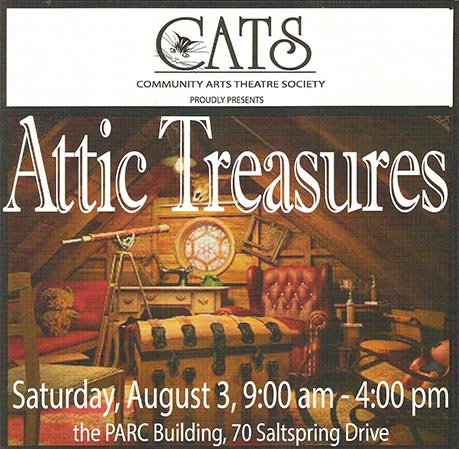 CATS (Community Arts Theatre Society) will be holding a "garage sale" on Saturday featuring donations from individuals throughout the community. All proceeds will benefit the San Juan Community Theatre.
Come to the PARC building in the Beaverton Business Park, just off Beaverton Valley Road about 9/10 of a mile from the town limits.
And don't miss the Brown Bag Sale, starting at 2:00 pm! Everything you can fit into a brown paper bag for $5.00. If it doesn't fit, it's half price or best offer.
Another wonderful C.A.T.S. Fundraising event for SJCT. Saturday, August 3rd from 9:00 am to 4:00 pm at the PARC Building, 70 Saltspring Drive